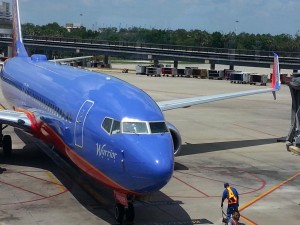 So, I'll be candid – I'm not a huge fan of Southwest Airlines. I'm not a "hater" but I don't go out of my way to fly them. I do however find Southwest great for short trips, especially considering I'm based 20 minutes away from BWI – one of Southwest's hubs. I can take reasonably priced non-stops to Jacksonville to visit my folks, Boston, and others, to visit friends and family. Even better, they treat everyone just about the same. But like I said, if I can, I'll choose American, if the prices and routings are null.
I will say that we had a great time on Southwest flying to Key West (which unfortunately Southwest ended service to), Great crew, great flight, and on the way back, we even saw one of Southwest's 737's with the Split-Scimitar
So, when I happened to see Frequent Miler's QuickDeal, as well as Big Habitat's Southwest Challenge I thought, why not? They do fly to the Caribbean from BWI anyway.
The Plan
I hastily put the plan into action over the weekend. We had been meaning to buy an elliptical, which we bought on Thursday when the 9x Southwest Portal first showed up (with the gift card, because, I can't pass up a double dip). We ended up buying an additional $4.5k in gift cards and then some products with those gift cards. This won't get us all the way, but my wife (who's account we're going for the pass for) already had 10,000 or so Rapid Rewards points for the year.
The Waiting and Hitch
So, the Elliptical, which we opted to pick up, was available yesterday (we picked it up today). Its ironic I suppose that we tried the "Shop Your Way" app's "in-vehicle pick-up" which sounded great, but technical difficulties meant I had to walk in (big deal).
On the few products to resell, some came damaged, and we're still working with Sears to return them. I'm hoping I can return them fast enough to take advantage of the Samsung Galaxy Tab S 10.5″ pre-order, which nets 100,000 Shop Your Way points (don't get too excited, that's only $100). I'll probably have to "upgrade" the gift cards, because Sears doesn't allow you to use Sears Gift Cards for pre-orders. Its also important to note: Amazon doesn't allow resellers to sell Samsung Galaxy Tabs as "new" but you can sell them as "Used – like new."

What's Next?
I'm not sure. I'm waiting to be credited for the returns, I'm also waiting to see how many points I've generated to this point. I'll have an update to this post when I have more, which I hope will be in the next few days; although Sears can be slow.