Sometimes, you see a random tweet and figure – why not throw your hat in the ring.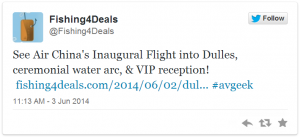 Well this tweet was exactly that, and I did, not thinking that I had a snowballs chance, because, who wouldn't jump at this opportunity!? And as it turns out, Friday, 6 June, I got the e-mail – I made the cut!
First of all, I just have to say – the team at @dulles_airport, especially Customer Service Manager Dennis Hazell and his team absolutely rock. I don't think I've attended a more expertly choreographed event with so many variables outside of their control.
On to the event
I had been tracking the plane via Flightaware.com all morning, so the anticipation was mounting.We were advised to arrive and check in for the event before 1pm. We ended up having the chance to mingle before we boarded the mobile lounges. I took a few moments to snap some photos of where the VIP Reception would be held.
And since a few Air China flight attendants were standing around, I took the opportunity to get a photo of them too.
Before long we were asked to board the mobile lounge for our drive to the airfield. We had a great spotting point just off of runway 1C/19C.
We had about 25 minutes before Air China 817 was to land, so we entertained ourselves as most avgeeks would; taking photos of other planes; we saw a Delta 737, a United A320, a handful of regional jets and a few private jets.
The Main Event
When we saw Air China 817 on short final, the camera's started clicking.
@Nethead posted a couple of videos to YouTube, the first of the plane landing.
We had been warned that as soon as the plane landed (well, really, slowed), we would need to hop back on the mobile lounge, so we could beat the plane to the taxi-way, where there would be a water cannon salute. – We even had an escort!
We made it to the taxi-way, and pulled off to the side and descended to the tarmac in time to watch the Air China 77W taxi through a Water Cannon Salute. The crew even put US and China flags out of the cockpit windows.
@Nethead's second video was of the water cannon salute.
After the salute, we stuck around for a few minutes grabbing some more photos of the Air China bird.
A word about the special Air China livery – The Smiling China livery features 40 different Chinese faces, each are Air China employees, as we were informed from the Air China representative (I didn't catch her name, but she's in the red dress in the photos after).
The VIP Ceremony
I didn't take nearly as many photos of that, however, there was some dragon dancing for the Governor of Virginia, and remarks from numerous folks.
There was gentleman that did many of the introductions although I don't recall his name – for that I apologize. One of the first speakers was Governor of Virginia Terry McAuliffe.
Following Governor McAuliffe, there was a representative of Air China:
I'd like to note, that while the Deputy Mayor of Washington, DC, and the Ambassador of the PRC to the US spoke as well, but I was more focused on their words than taking photos, the President and CEO of the Metropolitan Washington Airports Authority had a chance to speak. I found it interesting when he noted that Air China is the 25th International Airline to serve Dulles International Airport, and from the discussion at the event, it doesn't sound like there are any plans to stop there.
Following remarks, there was an exchanging of gifts, and a ribbon cutting ceremony. I will say – the Deputy Mayor of Washington, DC, and the Ambassador of the PRC to the US spoke as well, but I was more focused on their words than taking photos.
@Nethead's also was able to get a video of the ribbon cutting ceremony (and he had a much better vantage than I had).
A final note – Air China and the Metropolitan Washington Airports Authority (MWAA) did an amazing job. Their DiscoverDulles initiative was an amazing opportunity. In addition to just the opportunity to attend such an event, the team provided some wonderful gifts, including a propeller paperweight, an Air China A330-200, pens, luggage tags, and a flashlight.
Overall, this event was truly a brass ring. It's one of those things that you throw your name in the hat, hoping to get selected, and when you do, it is an amazing experience. My sincere thanks to DiscoverDulles for this amazing opportunity.
H/T to @Fishing4Deals for sharing this in advance (which was how I was able to sign up). She also has a great post on the event.