For those of you who follow the larger points blogging world, and travel arena's, its been an interesting week. As a result, I spent the last few days in retrospect. Big time bloggers and MS tactics I'm torn as I write this. Those that read TaggingMiles regularly know that I try to highlight stewardship, research, and caution with MS (here and here), and have made it a point not to be too detailed on techniques or particular "gigs." Some have reached out to me privately, and I welcome that, it allows greater opportunity for a conversation, and to ensure that folks understand the risks. On Tuesday, Brian posted something that was viewed by many as over the line. I attempted to weigh in with my thoughts as well. Here was the last exchange:
@tmount @miffSC @konorth @PatMikeL @FlyerTalkerinA2 this is just funny. AP is NOT a secret and none of you own the right to public info. — The Points Guy (@thepointsguy) July 29, 2014
and
@thepointsguy @miffSC @konorth @PatMikeL @FlyerTalkerinA2 More like sad. You've missed the point. Try reading this: http://t.co/YCNk8qZl04 — Trevor (@tmount) July 29, 2014
His argument, was that he was only sharing public information to save many people money, and make many points. I don't disagree with those points. The problem that I saw, was that he didn't really highlight the risks (account shutdown for example). My point was not necessarily that he was killing a deal, but rather putting out a carrot without highlighting that it might in fact have a string attached. I get it. His job is to provide content that will generate revenue through clicks and credit card sign-ups. As I commented on Matt's post, I think of this as slaying bison from the train car. As the story of the bison hunting went, eventually, changes happened. Marathon Man may be our "Buffalo Bill." I think Matt made an even better point than I could make on the risks, just don't get distracted by the title.
Pending legislation may impact how airline fares are displayed/advertised Joe wrote Thursday about how the Transparent Airlines Act was approved by the US House of Representatives on Monday, 28 July 2014. The industry lobbying group Airlines for America (A4A) has a graphic I actually like that shows how much the industry is taxed.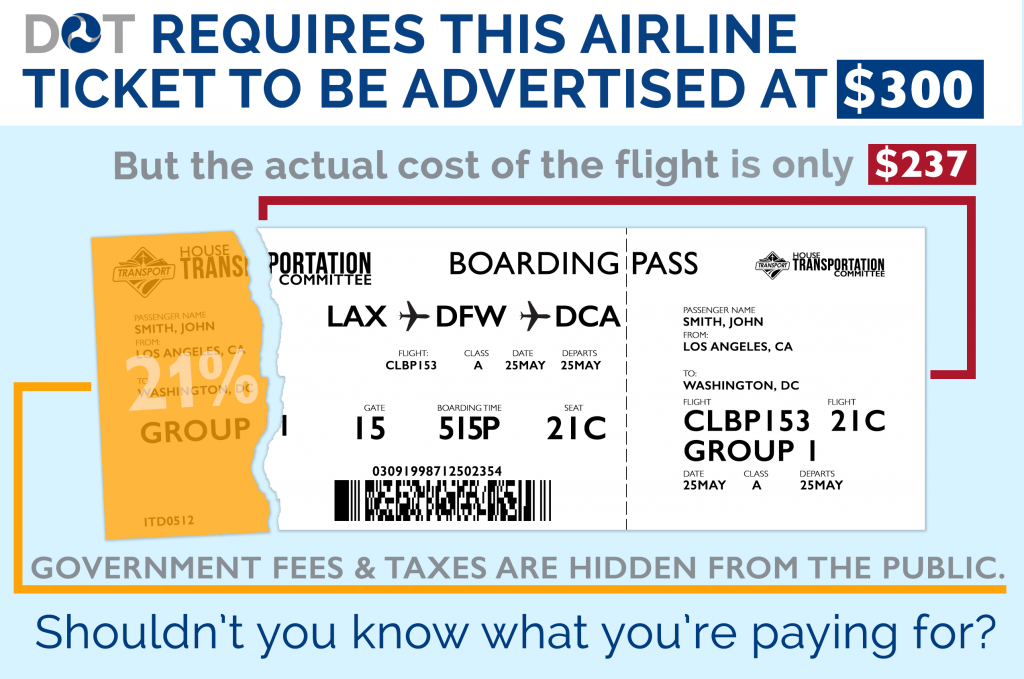 So, while Joe played the even, unbiased writer, I'm not. I don't believe the fact that air transportation is taxed at 21% makes the Transparent Airlines Act right. I think Seth at Wandering Aramean has it best summarized. In a nut shell, Seth highlights that airlines can show what the government taxes and fees are presently:
there is absolutely nothing preventing the airlines from identifying that split at any point in the fare advertising process, so long as they also show the full fare. Many airlines already do show the split on their websites as part of the process. These four all show the numbers before a customer clicks off the search results page:
Joe and I have made a point to highlight regulatory / tax related topics occasionally, such as the transparency act, TSA's new overseas electronic device restrictions and increased September 11 fees, because we feel that it is important to be aware of them. I just wanted to put a finer point on this one, because the traveling public has become acclimated to seeing prices a certain way, and this will upset the proverbial apple cart. Conclusion As I said before, its been an interesting week. As I think more about my interaction with Brian, the thing that frustrates me the most is not that he "outed a deal" – he didn't, I think we can all agree, its been out there. I don't know how many followers or subscribers Brian has, but I would guess its more than 40,000. I think there's a subset of them that may be harmed by this, and not because Brian is getting credit card sign-ups. I've made it a point to focus on research and the scientific method. I further proposed a nearly academic analogy of Manufactured Spend to Maslow's Hierarchy of Needs. The point is, for folks to be successful at MS, you need to be at that point where you can take a few breadcrumbs and figure out how to recreate–or better–bake the loaf. Perhaps the most important "trait" of MSers is creativity. That said, I'm still trying to figure out what the real answer is on the MSing posts, and I'll be following the Airline Transparency Act in the hopes that the Senate knows the definition of "transparency."
Ed. Note: The Tagging Miles Sunday Editorial is a weekly reflection of the authors opinions. Opinions expressed here are author's alone, and do not necessarily reflect those of Saverocity.com, or any blogger in the Saverocity family of blogs. No compensation nor incentive was given to mention or link to any product or service in this article.