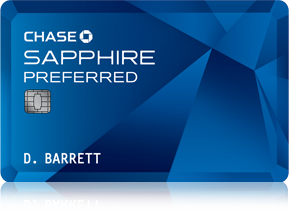 Reader Harvson asks via Ask TaggingMiles:
I've been in this hobby for a few years now, but have dialed back flying and MSing because the former leaves me feeling guilty (as we've discussed) and working on the latter seems like a waste of time.

Most of my miles/points spending and saving comes through the credit card route.

I was recently denied my second CSP from Chase for too many new accounts; the first I had 2011-2013 (paid the ann. fee once), then downgraded to regular Sapphire and continued to use it for restaurants until cancelling it in 2014. Have about 35k UR points on the Freedom, and only other Chase card is a sock drawer-ed IHG.

At what point, for those who have been in the hobby for a while and have gone through multiple card products and issuers, does it make sense to forego 4+ applications over a 24-month period in order to prepare for a successful UR card (CSP/Freedom)? Does it ever make sense? (Note: I've shut down some outside consulting I did, so I no longer have a business.)
Harvson is right. The game is changing, banks are cracking down on churning.
I've written a bit about Chase's disturbing change, that is, that they're not approving folks for Ultimate Rewards cards (Ink Plus, Sapphire Preferred, even the Freedom), if they have more than 4 or 5 new accounts in the previous 2 years (roughly). Its a somewhat strict change that Chase has made, which doesn't help, when added to American Express' once in a lifetime policy, too.
But, I think his question is two parts.
1. Are Chase Ultimate Rewards cards worth foregoing others?
2. What may be a better option?
Are Chase Ultimate Rewards worth it?
Chase Ultimate Rewards are great, I find them to be very useful for transfer to Hyatt, United, Korean Air, or Singapore Airlines. The thing is though, Korean Air you can also transfer to, from SPG, and Singapore, well, you can transfer to them from any of the transferable points currencies (Thank You Points, Membership Rewards, SPG, I think even Diner's Club). So that leaves Hyatt and United. If you're not traveling a whole lot, will Hyatt or United points help? Not so sure.
What would he be giving up?
If you ignore American Express personal cards, given the lifetime bonus limitation, that leaves you with non-UR Chase cards (e.g. United, Marriott, British Airways, etc), Citi and Bank of America. Yes, there are others like USBank, which could be useful, but, I'm not the hugest fan of. But, you do have Citi, and Citi has been especially generous over the last 18-24 months. I think that's a huge loss. Same thing with Bank of America and Alaska.
The Verdict
I love Ultimate Rewards points. I really do. Between my wife and I, I think we've got 3 freedoms and a good number of Inks, no Chase Sapphire Preferreds at the moment though, and I don't see that changing. But, if I were in Harvson's position, I would (1) maximize the quarterly 5x on the Freedom he does have, and (2) continue to pursue credit card sign-on bonuses from Citi and Bank of America. Why? Because I think he'll get greater bang for the buck, and I have a suspicion that Chase will likely change the policy. Will it be in the next 24 months? I'm not sure. But I wouldn't be surprised.
The one thing I haven't talked at all about though, is goals. Everything I've offered is in the view that the goal is miles/points for travel. But not for a specific trip. Now, if Harvson is really looking to fly a particular airline, or to a location that isn't well served, that could change the math. The challenge with that, is that a lot can change in 24 months.
What do you think? Are Ultimate Rewards Points worth foregoing churning for 2 years?