64K BEST WESTERN OFFER: Flyertalk has done it again! Thanks to poster MDtR-Chicago for posting this link to a 64,000-point Best Western credit card offer. Thanks also for pointing out that the offer details are buried in the T&Cs–scroll down a little bit on the app page to see the good stuff. Offer details:
Bonus Points:

Cardmembers will, upon first use of the account for a purchase or balance transfer within the first 90 days of Account opening, receive 16,000 Bonus Points at the close of your first billing statement after you have made your first purchase or balance transfer.

Bonus Spend:

Forthy-Eight thousand (48,000) bonus points will be awarded after at least $1,000 in Net Purchases (that are not later returned or rescinded) has been charged to the new account within 90 days of Account opening
Note that this no-annual-fee card is issued by Barclaycard, which has tightened up its underwriting since the days of Rapid Travel Chai's 5 simultaneous applications. Note also that Best Western points expire if your account has been inactive for 12 months. (Correction–thanks to commenter AJ on TravelBloggerBuzz for pointing out that points do not expire.) The redemption page is here. If you're not interested in travel, you can exchange 65,000 points for $250 worth of gift cards from Target, Walmart, Home Depot, and some other retailers.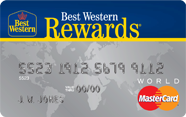 ACTUALLY, THIS OFFER IS EVEN BETTER: The eligible applicant pool is smaller, but the Navy FCU credit card is offering a 60,000-point bonus for signing up for its Flagship Rewards Visa. That will get you $600 off a plane ticket, and according to the Fatwallet thread you can also cash in your points for $450 in cash.
This card has a $49 annual fee, but offers you two points per dollar spent. Membership in Navy FCU is open only to those with a legitimate military or Department of Defense affiliation–there's no backdoor entry method as with PenFed.
ANYBODY WANT BEST BUY ELITE STATUS?: Since I've spent a non-trivial sum on Best Buy merchandise this year, I received today an email offer which lets me extend temporary elite status to three people. What does temporary Best Buy elite status entail, you ask? As per the email:
10% Point Bonus on top of the 1 point for every $1 they already get
Free Shipping on BestBuy.com®
Early Online Access to Black Friday deals
Elite Access to special shopping events
Extended 30-Day Returns and exchanges
And so much more
I have no idea what they mean by "so much more", but if you want elite status, please leave a comment below with the word "elite" in it. No need to leave your email, I'll see it in my comment moderation page. If there are more than three volunteers, I'll pick three randomly in a day or two.