Things are looking up for credit card aficionados! Consider:
According to Cardhub, card sign-up bonuses increased 5% in the second quarter. Interestingly, the article notes, "

And some consumers have likely learned over the years how difficult it can be to actually use the rewards that credit card companies dangle in front of them

. 

Such restrictions are part of the reason that a third of all credit card loyalty awards dispensed each year are never redeemed."

The Cardhub study also notes that bonuses are up 10% year-over-year.
Citibank is adding airline transfer partners! See Miles Professor for more. Hopefully Citibank will introduce some new options for earning ThankYou Points as well.
My wife just got her 50,000-point Fifth Third card.
A friend of mine just received two solid targeted sign-up offers: Capital One Spark ($500 cash back with a $4,500 spend) as well as the 150,000-point Amex Platinum offer shown below. It's $10K for the first 100,000 points, plus $10K more for the next 50,000. It's a lot of spending but 150K MRs is good compensation.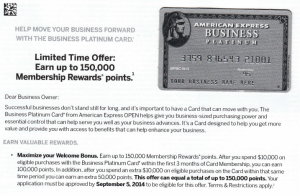 EDIT: I've also added in a scan of the Spark offer.