AN EXTRA 1% BACK AT STAPLES: I received a pleasant surprise in my inbox today:
Save 1% when you make a qualifying purchase of $200 or more with your enrolled Visa Business card in store or on staples.com. Save on thousands of products for your small business at Staples. From coffee to cleaning supplies and technology to business services, you'll find everything you need to keep your business running. Now get 1% back via statement credit on all purchases at Staples® when you use your enrolled Visa® Business Card.
Key terms & conditions:
Offer valid from 01/01/2014 to 12/31/2014.
Valid on qualifying purchases of $200 or more made in the U.S only at Staples retail locations, by phone at 800-333-3330 or online at staples.com
As Frequent Miler has pointed out, Chase has switched over its Ink cards from MasterCard to Visa.
STAPLES CARRYING PRICES OUT TO NINE DECIMAL PLACES FOR SOME REASON: Staples has recently been running some experiments with getting people to buy stuff they were looking at but did not originally purchase. Yesterday I was looking at some tissues that were on sale (buying paper goods in bulk at Staples can be a great way to save–you should see the storage shelves in my basement) and I received this in my inbox today: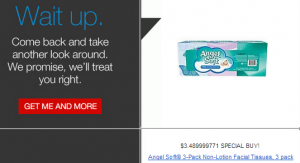 Obviously there were some formatting issues, but the special sale price of $3.489999771 really caught my eye! Staples has got its marketing down to a science if they're carrying the numbers out that far.
CREDIT CARD FEES FOR MILITARY MEMBERS, CONTINUED: Following up on yesterday's link to the Military Frequent Flyer article about Capital One fee waivers, Jason Steele wrote in to refer me to his article on military financial perks at big banks. There's some great information there–for example, US Bank "grants all active service members their Platinum Package benefits at no cost, which waives checking fees and annual fees on lines of credit." Good to know!
A CREATIVE GIFT CARD STRATEGY: Watch your back, Bitcoin! Starbucks gift cards are now an accepted form of currency:
As of Jan. 9, Los Angeles-based coffee start-up Tonx, which hand-picks, roasts, and delivers fresh coffee beans to customers' doorsteps, began accepting a new, and rather unexpected, means of payment: Starbucks gift cards. Simply provide Tonx with a valid gift card number and security code (here), and the company will exchange the balance of your card for an equal amount of credit for Tonx's subscription coffee delivery service.

"It's that simple," Tonx co-founder Tony Konecny told Quartz. "People can literally exchange their gift card balance dollar for dollar."

It may seem odd that any company, let alone a Starbucks competitor (albeit a small one), could springboard off the coffee giant's gift cards, but that's exactly what Tonx intends to do. The value on Starbucks cards can only be used to buy things at Starbucks or be transferred to other Starbucks cards, so Tonx's plan—at least the skeleton of it—is to amass a large gift card balance of its own.
The article doesn't say what Tonx plans to actually do with the gift card balance, but kudos to them for trying something like this.
AND NOW FOR SOMETHING COMPLETELY DIFFERENT: Just for a change of pace, I wanted to mention something which has nothing to do with financial matters, but with something more important: philosophy. Baruch Spinoza was a tremendously bright 17th century philosopher, but it seems few people these days are familiar with him, so I'd like to remedy that. And what better way than with a lengthy quote of his work? The is from his ethics, and you can go here for the whole thing. It's very dense stuff, but quite profound. Enjoy!
…The mind always regards things as present to itself, even though they be not in existence, until some causes arise which exclude their existence and presence. Further (II. xviii.), we showed that, if the human body has once been affected by two external bodies simultaneously, the mind, when it afterwards imagines one of the said external bodies, will straightway remember the other—that is, it will regard both as present to itself, unless there arise causes which exclude their existence and presence. Further, no one doubts that we imagine time, from the fact that we imagine bodies to be moved some more slowly than others, some more quickly, some at equal speed. Thus, let us suppose that a child yesterday saw Peter for the first time in the morning, Paul at noon, and Simon in the evening; then, that today he again sees Peter in the morning. It is evident, from II. Prop. xviii., that, as soon as he sees the morning light, he will imagine that the sun will traverse the same parts of the sky, as it did when he saw it on the preceding day; in other words, he will imagine a complete day, and, together with his imagination of the morning, he will imagine Peter; with noon, he will imagine Paul; and with evening, he will imagine Simon—that is, he will imagine the existence of Paul and Simon in relation to a future time; on the other hand, if he sees Simon in the evening, he will refer Peter and Paul to a past time, by imagining them simultaneously with the imagination of a past time. If it should at any time happen, that on some other evening the child should see James instead of Simon, he will, on the following morning, associate with his imagination of evening sometimes Simon, sometimes James, not both together: for the child is supposed to have seen, at evening, one or other of them, not both together. His imagination will therefore waver; and, with the imagination of future evenings, he will associate first one, then the other—that is, he will imagine them in the future, neither of them as certain, but both as contingent. This wavering of the imagination will be the same, if the imagination be concerned with things which we thus contemplate, standing in relation to time past or time present: consequently, we may imagine things as contingent, whether they be referred to time present, past, or future.
Deep stuff! There are some things money can't buy, and one of them is enlightenment. For everything else, there's MasterCard. Unless you're going to Staples.