ESSENTIAL OFFICE SUPPLIES: Get while the getting's good, but only if you know what you're doing. That's all I have to say.
FTU REPORT: It obviously wasn't as awesome as the Personal Finance Digest awards which were given out yesterday, but Freequent Flyer has a good write-up of the Frequent Traveler University event. Speaking of which, I recommend a look at Rapid Travel Chai's presentation on going to more obscure, off-the-beaten-tracks locales. It's a breath of fresh air in the points-n-miles world.
FREE MOVIE TICKET: Fandango is doing its 2-for-1 Friday movie ticket deal for Visa Signature cardholders; go to My Money Blog for more details. This would pair nicely with that Chase first Friday thing people are always talking about for some reason.
RIP GREAT BRIDGE GROUP: Great Bridge group is no longer giving out passive credit card income: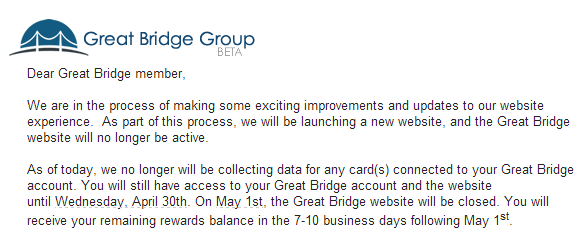 I first wrote about them back in 2012:
We're not actually concerned about information security and privacy. We have no reason to believe that this company is a scam set up to steal our credit card numbers. They are attempting to raise $800K in capital, and even if they were a scam–well, credit card issuers are pretty good about covering victims of this sort of thing.

…Our primary concern is that this company remain solvent enough to pay out its promised 1%. Back in 2011 there appeared a company called Envaulted with a similar idea. We signed up and got paid for a little while, but then the checks slowed down, and then the company went incommunicado, not to mention bankrupt. The website is still there, however.
I made a few hundred dollars from GBG, so no complaints from me about how things turned out. (And incidentally, the Envaulted website is still there!)
CHEAP CARIBBEAN: Miles for Family has some thoughts on how to take a family to the Caribbean without breaking the bank:
The best place to find deals on all-inclusive resorts is Cheap Caribbean. You can sign up for their newsletter and receive all the updates. They usually run a special on Cyber Monday with rock-bottom prices. But even if you don't snag a deal then, there is usually  a sale as the winter (the high season) winds down.

I have seen prices as low as $15 per person per day. So for a family of 4, you would be looking at $60 per night in a tropical location, with meals included.
Not too shabby!