I posted a blurb about Square Cash the other day, as did many other bloggers since it's a good way to wring some extra miles out of mileage-earning debit cards. A few big names, such as the SunTrust Delta card or the Bank of America Alaksa Airlines card, tend to be the most frequently mentioned ones.
But those aren't the only options. For those of you willing to look beyond the big banks, there are many more rewards debit cards out there. I have some of them listed below. Most are issued by smaller banks you've never heard of, and you're probably not eligible for accounts with most of them. This list is intended to be representative, not comprehensive, so check out banks in your state, city, town, or neighborhood to see what kind of deals are available.
So what's out there?
GREENVILLE FEDERAL CREDIT UNION: The CardCash debit card lets you earn up to 1% on signature/non-PIN transactions. It's a little odd how the 1% window of opportunity works, but hey, it's something:
So it's effectively a hair under half a percent cash back for the first $1,600 in transactions each month. This credit union is located in Greenville, SC (an underrated town, by the way)
BANK MUTUAL: This Wisconsin bank also offers the Card Cash product, and it also has an odd cashback scheme:
1.00% on qualified monthly purchases totaling $500.01 – $1,000.00
0.50% on qualified monthly purchases totaling $1,000.01 – $1,500.00
0.25% on qualified monthly purchases totaling $1,500.01 and higher
COMMUNITY AMERICA CREDIT UNION: You can earn 1 point for every $2 in signature transactions–but only if you're in St. Louis or Kansas City or employed with certain companies.
ASSOCIATED CREDIT UNION: Membership is open to all, though you'll only get one point for every $3 in signature transactions. Though interestingly enough for a debit card, they have a quarterly rotating bonus system where you can get 2 points per $3 in rotating categories: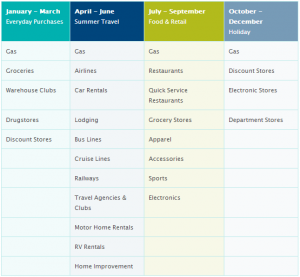 MECU OF BALTIMORE: 3% cash back on debit card transactions! Granted, it's only on the first $250 of purchases each month, and you have to jump through a lot of hoops (12 debit card purchases per month, etc.) just to get that little amount, and–you're right, this one's not worth it.
FIFTH THIRD BANK: Okay, this is a pretty big bank, but I never see this card mentioned. It'll get you 1 point per $2 of signature purchases. Incidentally, 5/3 also has an unusual product called the DUO card, which is a debit card / credit card hybrid. If you enter a PIN, it's processed like a debit card and the money is deducted from your checking account. If you choose 'credit', the money comes from your credit line. If I'm reading the fine print correctly, though, you do not get points for debit transactions.
That's all I have. Anyone have any sweet local bank deals, debit or otherwise?