I had the pleasure of sitting in on the Mile Madness get-together here in Charlotte on Saturday, and here are my notes and observations.
Overall verdict: Great! I learned a lot of good stuff, and it's fun to meet people who are into this odd hobby of ours.
I got to have dinner with Frequent Miler on Thursday–great guy, super nice, knows his stuff.
Congratulations to the Miles Professor for winning the Mile Madness challenge! In her talk she gave some good pointers on how to use Paypal and Square Cash.
You meet some interesting people at these things and get some good tips. Thanks to Adam for pointing me to a site called extremehoteldeals.com which does, in fact, have some extreme hotel deals.
On a similar note, thanks to Sam for sharing this letter with me: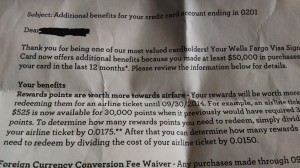 It's nice to see that Wells knows how to treat its heavy hitters! I forgot to ask Sam, but I think that letter is for the Wells Fargo card that earns points instead of cash. If you can get a $525 ticket for 30,000 points, are we looking at an 8.75% travel card (for the first six months)? Does anybody have any info on this? Am I missing something?
Some of the people at this thing are doing insane levels of spending, well above both my comfort level and my available time level, but I really enjoy hearing the stories.
Marathon Man was awesome. If you're into this stuff and have a chance to hear him speak, go for it! Hopefully you'll get to hear about the Soviet tank. He also posts on Mileage Update every now and then.
Bengali Miles Guru, who posts on Hack My Trip, was tremendous. As folks get older they tend to succumb to the Golden Age Fallacy, the belief that things aren't as good as they used to be and the world's going to hell in a handbasket. Seeing somebody like BMG–who is still in college–is a good antidote to that sort of thinking. And his partner-in-crime Amol did his first award booking when he was nine years old (!) by taking advantage of the Healthy Choice promo, which I think is the same one from L'Affaire Pudding Guy. 
Phil from MilesAbound shared an exceptionally lucrative local-only deal he stumbled upon (though it was offered by a national company) and stressed the importance of keeping your eyes open and looking for your own deals.
Gideon the Freequent Flyer gave a thoughtful talk on travel-hacking ethics.
We also heard from a mysterious figure who's employed by the Pentagon.
All credit to Matt for organizing this, it was both more intimate and more advanced than the typical FTU type of get-together, or at least that's what I was told by folks who'd been to FTU conferences. (Imitation is the sincerest form of flattery, yes?) It was great seeing so many world-famous bloggers in person, and it was also great to meet some readers as well.