As you have probably heard by now, the Powerball lottery jackpot is pretty big. Any time it gets this big, some people who don't normally play the lottery start to wonder if buying a lottery ticket might be a good deal.
I'm one of those people. Normally I have no interest in lottery tickets because they're such a horrible waste of money (unless you can figure out their system, like this guy did). But when the jackpot gets up to $550 million, it's worth plugging a few numbers into a spreadsheet.
I like the approach taken in this BusinessInsider article, so I'm stealing it. I made a couple of changes.
First, rather than give the stated value of the lottery ($550 million), I'm giving the actual lump-sum payout ($350 million), which is what most people take. The higher number actually represents the total value of annuity payments over many years, and the lump sum is what those payments are worth right now.
Second, since you have to pay taxes on your winnings, I used the after-tax value in my calculations. I only did this for the three highest prizes, as most people won't bother to pay income taxes on a $7 winning ticket.
Here's how it looks: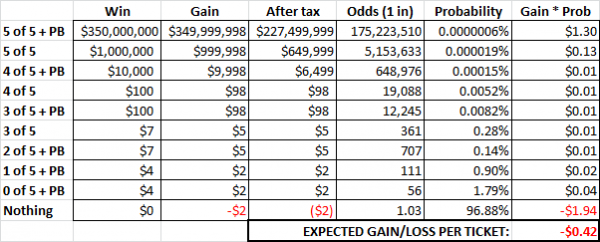 So if these calculations are correct, you can expect to lose $.42 out of every $2 ticket. Except it's worse than that in two ways.
First, the chart does not take into account the probability of sharing the jackpot, and with so many people buying tickets right now, that probability is higher than normal. In fact, lotteries like this actually see diminishing returns to a high jackpot because so many more people than normal are induced to buy tickets.
Second, most of the expected gains are concentrated into the grand prize outcome. The most likely outcome, by far, is to lose everything you spent on the ticket. If you spend $200 to buy 100 tickets, you would expect 97 of them to be losers, and you would expect a total of $12 from the other three, maybe a little more if you're lucky.
But on the other hand, if you derive $0.42 or more of entertainment from purchasing a ticket, you're at least breaking even. I would expect diminishing returns to purchases beyond the first ticket.
Therefore, the official Personal Finance Digest recommendation is: buy one ticket–exactly one, no more. Think about all the great things you'd do with a few hundred million, get your $0.42 worth of dreaming done, and then throw the ticket away on Sunday morning after you verify that you're not the lucky jerk who won the lottery. At least you tried, right?