Here's an interesting headline from National Journal a few weeks ago: Scott Walker Is Paying 27.24 Percent Interest on $10,000-Plus in Credit-Card Debt:
Gov. Scott Walker has two credit-card debts of more than $10,000 apiece on separate cards and is paying an eye-popping 27.24 percent interest rate on one of them, new federal financial documents disclosed on Monday show.

The Republican presidential candidate has cast himself as both a fiscal conservative leader and a penny-pinching everyman on the campaign trail, often touting his love of Kohl's, the discount department store. His newly published financial disclosure shows that, like many Americans, Walker has few assets, some major debts (including more than $100,000 for student loans for his children), and a punishing interest rate on his credit-card obligations.

Walker incurred one credit-card debt with Barclays in 2014, according to the financial disclosure form, and owed between $10,000 and $15,000 at a 27.24 percent interest rate as of July 2015.
It's not only Barclaycard, though:
One of Walker's credit-card debts, to Bank of America, dates back to 2011, his first year as governor, according to the disclosure form. Walker currently owes between $10,000 and $15,000 on that one, with an interest rate of 11.99 percent.

…On the Wisconsin form, Walker also listed a $5,000 to $50,000 debt to Sears Master Card as of the end of 2014. That debt does not appear on Walker's federal disclosure, suggesting he paid it off.
Seriously, what gives here? I know it's hectic being governor and running for President, but c'mon, it takes five minutes to apply for a new card with a 0% promo rate. Isn't there a campaign intern who could take care of this?
On a related note, here's a cool graph from NPR that shows how likely people are to pay their credit card bill in full, broken out by FICO: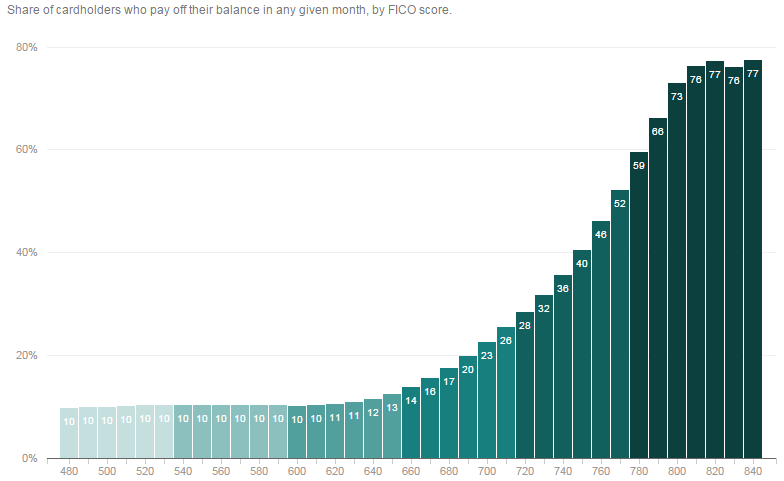 I know Americans have lots of credit card debt, but this is surprising. Even at the 700 level–which is not great but not terrible either–only one quarter of the population pays off their balance every month.