I've previously identified US Airways' off-peak awards to Europe for 35,000 miles round trip as a particularly good value, but it may be time to look harder at availability and booking.
I have been interested in Rome for an off-peak award for a while and have been waiting for saver-level space to open up on the PHL-FCO and CLT-FCO routes.  During that six week window, there weren't many dates offering 3 open seats for 35k round trip, so I waited.  And waited.  Today I decided to check again and was surprised by something a little bit different – it appears that US Airways will be stopping service to Rome for about one month beginning on February 5.
To verify, I searched paid fares and came up with the following for Philadelphia to Rome –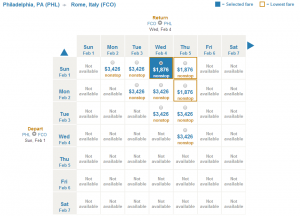 As expected, this flight is no longer available starting February 5.
Service from Charlotte is not mentioned in the article, but the result is similar –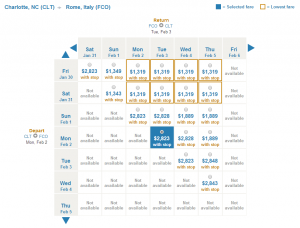 Zurich will also see a service cut from October 25 through August 14, eliminating off-peak award availability entirely to one of the better connecting airports (and vacation destinations!) in Europe.  Based on this, I am glad I held off on buying miles, since off peak awards would be my intended purpose.
As US Airways and American Airlines merge, there may be a shuffling of aircraft and rationalization of routes that might cause something like this – either temporarily while logistics get worked out, or permanently, due to costs or better opportunities for the aircraft.  In this case, the schedule changes appear permanent.
It is disappointing to see  US Airways service to Rome and Zurich disappear during the brief 6 week window for off-peak awards.  Especially so because Rome is a fantastic winter destination if you are escaping the Northeast weather and Zurich is one of the better gateways to the rest of Europe if you don't intend to stay there.  Some of that manufactured leisure time will have to be re-purposed, it seems.
In the meantime, if you are interested in other OneWorld awards, Joe has another installment in his series on searching award space that you will find useful.
Have any readers' plans been impacted by this change?  For anyone that had an award booked in February, has US Airways notified you and done anything in terms of compensation beyond the mileage refund?