US Airways has been my preferred domestic airline for years, largely out of convenience.  The bulk of my life has been spent between Philadelphia and Northern Virginia, which happen to be hubs for the airline and therefore direct flights from pretty much anywhere else that I have attempted to live.  As a result, I've amassed a fair bank of miles on US Airways and have also become somewhat decent at finding low level award space on their metal.
The Dividend Miles program has received a great deal of coverage in the past, thanks to an industry best 90,000 mile business class award to North Asia, with a stopover allowed and routing pretty much anywhere that the phone agent would agree to ticket.  That opportunity has dried up, but one lesser-covered sweet spot in the US Airways award chart is the 35,000 mile off peak coach round trip to Europe.  The "coach" portion may throw a lot of people off, but as a family, it is a better way to stretch our miles and also sit together.  With the proliferation of awesomely comfortable, super private pods in international business class, sitting near my two year old has become harder to do outside of the coach cabin.  Thankfully, the east coast to western Europe really isn't that long of a flight, so coach isn't necessarily roughing it.  But I digress.
What's the Catch?
Well, for starters, US Airways' off-peak window is approximately 6 weeks in the dead of winter, January 15 to February 28.  Those aren't generally the months that people are thinking about a vacation to Europe, due in no small part to post-holiday exhaustion and that thing called winter.  Still, crowds are minimal and the cities getting crushed with tourists right now are absolutely incredible during low season.  Better yet, if you live somewhere cold to begin with, places like Rome or Paris are a significant upgrade when it's pushing zero at home.
The other issue is that of availability.  The 35k off peak award is available only on US metal, which means that your options are limited to those cities that US Airways serves year-round.  In Western Europe, those destinations are currently London, Paris, Rome, Amsterdam, Brussels, Munich, Frankfurt and Zurich, with no guarantee that the year round service will continue as the merger with American Airlines moves forward.  Secondary cities are out of the question, as they will require a connection on a partner, and the award will price out at the normal 60,000 mile rate.
Given that this discounted award is only available on a handful of flights for 6 weeks, it happens that low level space dries up well ahead of time.  The problem is compounded when you require a connection to the gateway, generally PHL but sometimes CLT, that is only served by US Airways Express – my anecdotal observation has been that award space on those flights does not open up far enough in advance if you are looking for more than 1 or 2 seats.
My Strategy
I am in the group described above, requiring a connection to the hub that is largely served by US Airways Express.  Finding 3 seats PWM-PHL is a fruitless endeavor right now.  Therefore, I start my search from the hub out to the destination.  US Airways' own website is the best place to search for low level space on their own metal over a range of time, as their "flexible" search allows you to specify US Airways flights only and will show you a month at a time.  Nevermind that their search tool has zero partner capabilities, that is working to your advantage at the moment.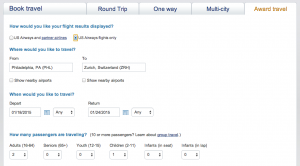 I like Zurich as a first pass for a few reasons.  The first of which is that availability tends to be pretty good during off-peak season.  At the time of this post, finding 3 seats over the Martin Luther King Day week is no problem.  While a weekend return isn't possible, we can extend our trip by a day and still use the same amount of vacation time from work!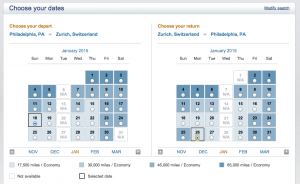 I mentioned a few reasons for ZRH but have only given you one.  The other two are less obvious, but equally important.  Zurich is an easy airport to transit – everything from layout to security is known to be efficient, and as a result, a shorter connection is possible.  The last is that there are a number of connecting options with some route competition to places that you might want to go.  Swiss will fly you pretty much anywhere from ZRH, but if getting somewhere else in Europe is on your list, Etihad Regional is now operating a hub there as well.  Having the two compete means non-stop service to places like Florence is very affordable, so you can simply buy that ticket and continue onward.  US Airways will not interline your luggage, meaning that you will have to pick up your bags in Zurich, clear customs and re-check them, but the aforementioned efficiency of this airport makes this a fairly reasonable possibility.
If Zurich is not providing you with the options you want, Amsterdam (AMS) is another option for similar reasons.  At the moment, Paris Charles de Gaulle (CDG) is also wide open, but transiting that airport takes a bit more time and effort.  That will be the subject of a post on it's own as I am pushing 1000 words here already!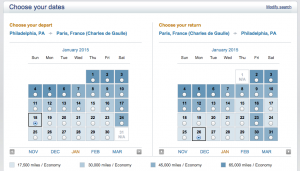 Last but not least, I haven't forgotten about getting to the hub.  This tip is less insightful, but I will often consider just buying a revenue ticket.  Booked far enough out, they tend to be reasonably priced and having the ticket booked lets me feel comfortable that my trip is fully planned.  If for some reason the cash price is not what I want, I will wait for low level availability to open up, call US Airways and see if I can get a sympathetic agent to add it without charging me the customary change fee – currently $150 per ticket.  If I am not successful, and I often am not, I will book the connection as a separate ticket using Avios, allowing a longer connection time in case of a delay, as US Airways is not obligated to accommodate you if you misconnect.  Provided that the connection is also on US Airways, you should be able to interline your luggage and not have to pick it up in Philly or Charlotte.
You can always wait and book it all on one ticket, of course, but the risk that the transatlantic space will dry up increases.  This year, though, I am going to try and do exactly that so I will be posting again in the fall on whether waiting was a success or if the trip isn't happening next winter!
 Conclusion
US Airways off-peak awards are a tremendous value if you are willing to travel in coach and happen to have space open on your connection to the hub.  Even if you need to make some alternate arrangements to connect, the value is still fairly good – 35,000 miles RT + the cost of getting to the hub.  If you happen to have the US Airways MasterCard, you catch a 5,000 mile discount on the trip, lowering the total to 30,000 miles.  Outside of one very specific route, BOS-DUB costing only 25k Avios, there isn't a cheaper award to get to Europe from the US when factoring in the absence of fuel surcharges.  It is certainly worth a look if you are open to Europe in the winter and are headed to a larger city.
Are you going to Europe this winter?  Tell us about your plans.