Thanks for a tip from TravelStar at FlyerTalk! As of this morning, when I log into my Membership Rewards portal, Aeroplan no longer appears on the partner list.  Whether this is a glitch or a true loss of partnership remains to be seen.
As of about Noon EST, the Amex twitter team still sees Aeroplan as a transfer partner.  This might be a glitch, but I'll wait for confirmation of that.   As of 5PM EST, Aeroplan is back on the Membership Rewards site as a transfer partner.  Sorry for the non-story, folks.
If the partnership between American Express and Aeroplan has ended, it is a big loss to the value of the Membership Rewards program.  While Amex still has other Star Alliance partners such as ANA and Singapore, Aeroplan offered some unique value in that their award chart to Europe was still very reasonable (90,000 miles round trip in business) and they did not levy fuel surcharges on all partners – even carriers that charged heavily, such as Swiss.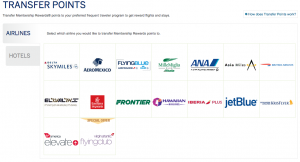 If Aeroplan is gone, ANA may be the next best option.  While ANA is abandoning its previously awesome distance-based chart for 2015, its award prices remain quite low with some excellent sweet spots.  For instance, the 2015 ANA chart will charge 45,000 miles for an economy round trip from North America to Europe, and just 72,000 in business.  Meanwhile, 60/100k are the industry standards.  You'll pay fuel surcharges, which is a bummer, but even at a generous 2 cents per mile valuation, the discount in miles outweighs the fuel surcharge.
I'll see what American Express will tell me about this.  I really do hope it's a glitch, if nothing else because a no-notice termination of a partnership is always troubling when it comes to confidence in a points/miles currency.  It wouldn't be unprecedented, of course, with Chase recently losing Korean as a transfer partner – although stories are mixed as to whether it's a temporary issue to iron out some wrinkles.