Upromise is an excellent savings program owned by Sallie Mae.  At its core it is designed to create cash back savings that are targeted towards college expenses – either in the form of a 529 College Savings Plan, or to be funneled into Sallie Mae Student Loan payments, however there are also other options, such as linking a high earning (sic) savings account, OR… simply requesting a check.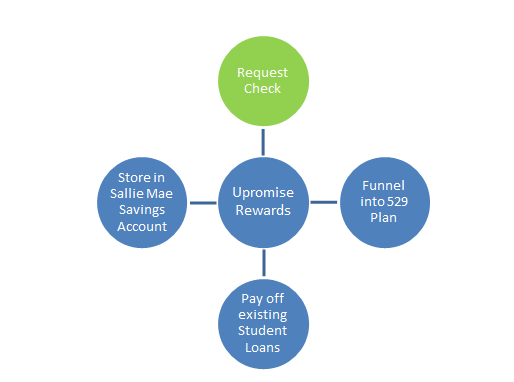 The interesting angle for those who have not considered this program in the past is the check option – if you want to look at this as pure cash back you can request the check from the points and enjoy the money.  The risk you face is if you first transfer the money into the 529 or possibly the Savings account as that might tell the IRS that you are now saving for college, and if you make withdrawal then you will have to pay tax (plus a 10% penalty) on the interest earned side of things (you wouldn't pay tax on the initial investment amount).
>Getting Started – set up a Upromise Account, this will be the holding vehicle for all your earnings, from here you can then access the following earning options: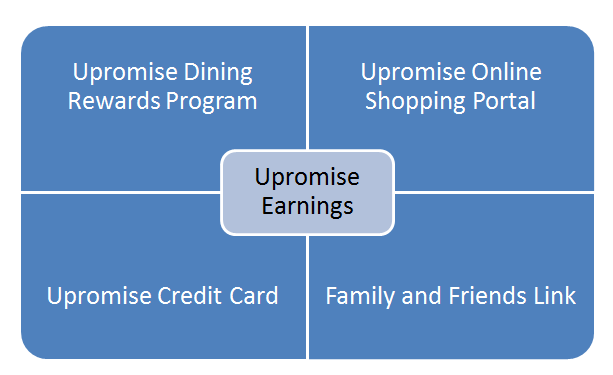 Upromise Dining Network
I personally think this is the most generous Dining Network programs available.  Most of the big loyalty programs are linked to a Dining network, but they typically require a fixed number of dines to reach 'VIP' status  typically that seems to be 12 dines.  Once you reach that level you become a VIP and earn at 5 miles per dollar.

The Upromise Dining Network is a revenue based system, which in my opinion is much better, since living in New York I find that a meal for 2 is easily over $100 each time, and they include Tax and Tip in what you spend to earn status with them!  Check out the Upromise Dining Network Rewards Tiers here:

Taking a quick look at earnings based upon different meal prices: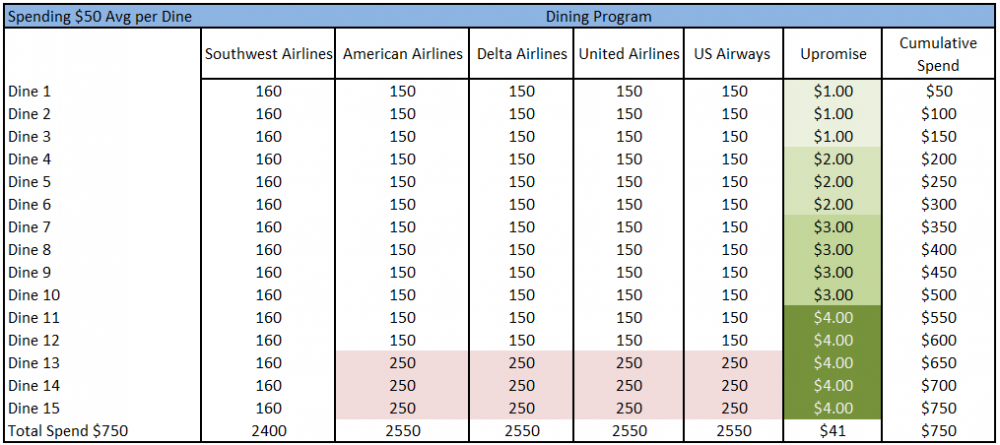 Now, again we hit that part where the value of a mile is subjective, so to keep it as objective as possible, if you are earning the Miles vs Cash back with an average spend of $50 per dine then you are saying you would forgo the cash and accept the Miles at a cost per mile of: 1.6 Cents.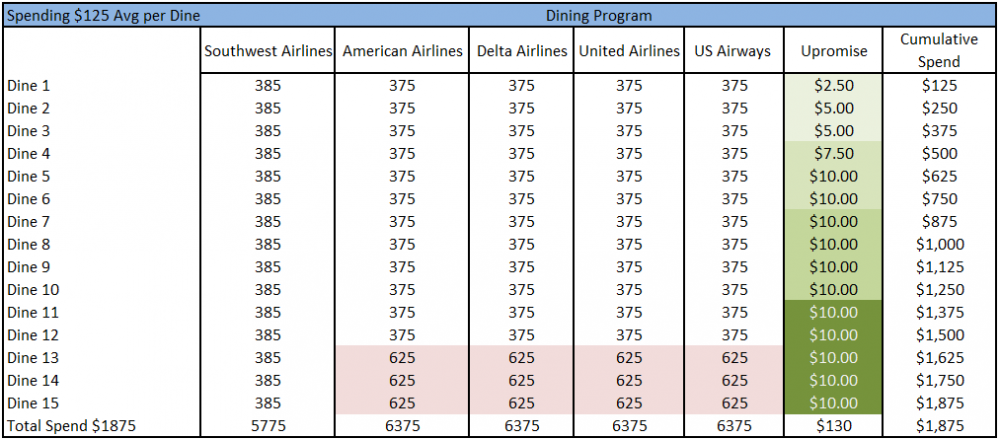 If we look at a higher average dine rate, which I think is not uncommon for two people with wine (including tax and tip) then $125 is very easy to spend.  The earnings with Upromise Dining are even higher, because you get to VIP Platinum status that much faster and are earning at 8% Cash back. Here you by accepting Miles over Cash you are paying 2.04 Cents per mile… really not good value IMO.
Note – you can link ANY card to the Upromise Dining network; many people like using the Chase Sapphire Preferred card for Dining as it offers 2x Ultimate Rewards, however, if you use the UPromise MastercarBut note that 4% multiplier only works at the participating restaurants in the network, whereas the Chase card works everywhere.
Comparing paying for your meal with Upromise Mastercard rather than than the Chase Sapphire Preferred (you could also mix and match)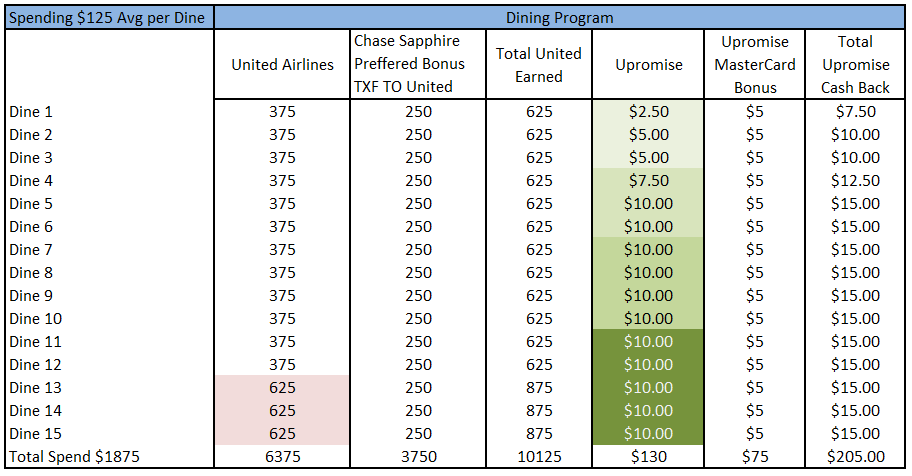 In that last example you would give up 10125 from the 'old route' of paying with your Chase Sapphire and the United Program. But you would earn $205 with the Upromise Mastercard.  If you pick the United Miles you are buying them at 2.02 Cents each.. not good.
You can really start stacking your earnings potential by adding the Upromise Mastercard, but I should note there are a few caveats.. firstly on those earning multipliers: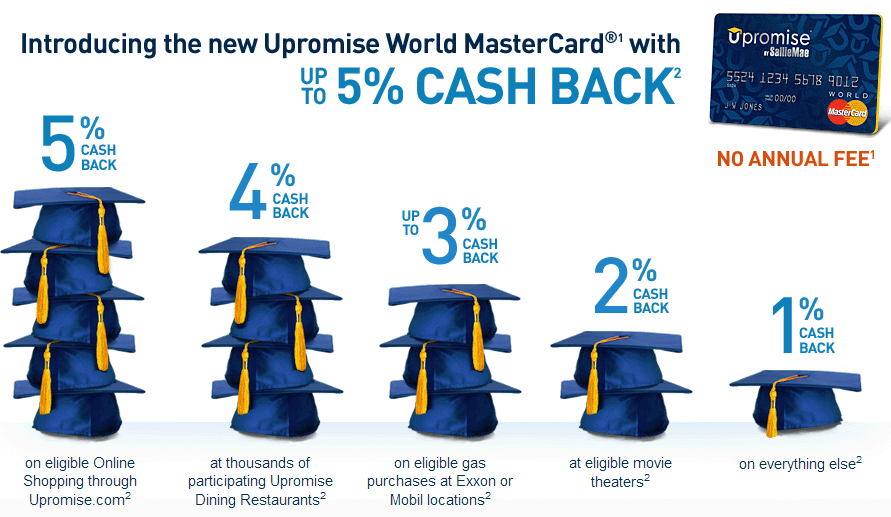 1. Dining 4%, as mentioned previously only applies to those restaurants in the Upromise Dining Network – otherwise it will be 1%.
2. Gas 3% at Exxon or Mobil only – and you need to pump 20 Gallons per month in order to get the 3% rate – doesn't apply to Diesel, non-fuel and Fleet Purchases.  You might want to consider cards like the Chase Freedom or DiscoverIT Card that are currently both offering 5x on Gas for this Quarter in their rotating bonus categories too.
I think its a good deal if you plan to get the multipliers working for you, if you are the type of person that likes to plan their meal ahead and would be happy to check the Upromise Dining Network for your restaurant then earning 12% Cash back is unheard of, and also their online shopping portal is excellent – you double dip by paying with this card.  If the merchant is offering 5% you get 5%+5% for 10% cash back.  If you want to get the card the links here are my affiliate links, and come with a $50 sign up bonus to get you started.
The Upromise Online Shopping Portal
I cross check the best Online Shopping Portal using Evreward.com (people use others, but I've found this one OK for me) I ran a few random companies through Evreward to see how Upromise compared.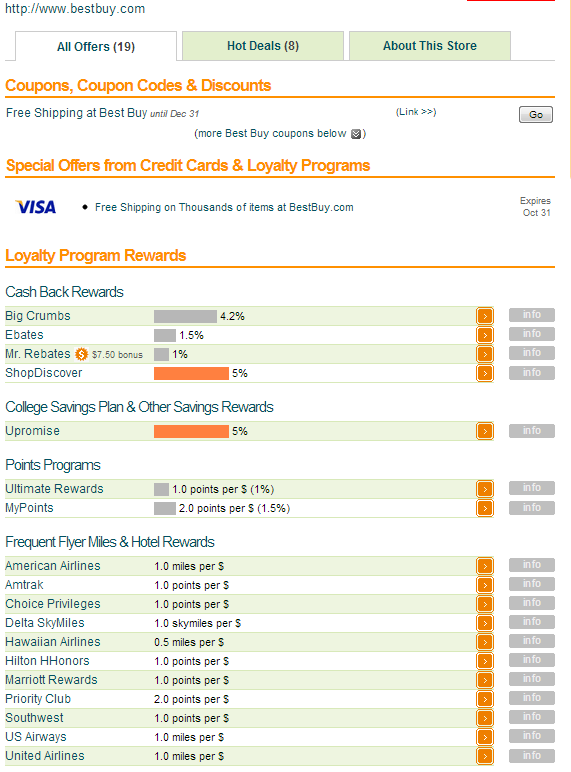 For the most part, the companies that list on Upromise Online Shopping Portal seemed to offer 5% Cash back – you get double that if you pay with your Upromise Mastercard.  However even then it isn't always the best offer, as I punched in some random companies – ShopDiscover offered 10% for one (you would a get an extra 1% from the DiscoverIT Card for 11%) or here if you look at Kohls the leader is Chase Ultimate Rewards shopping, as you would get your 10% plus whatever card you used on the top.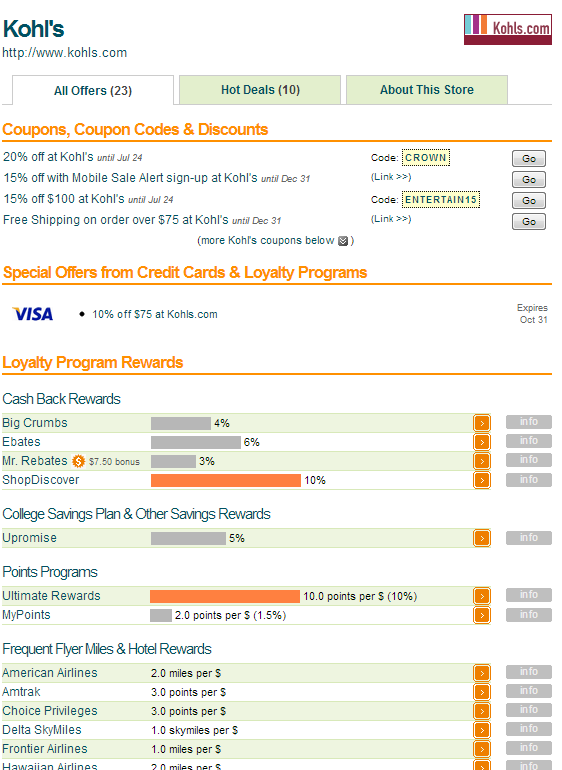 I didn't do an exhaustive search, but my opinion is that if you see something that is traditionally offering 2-3 Ultimate Reward Points, such as Staples, you could get the 5% from Upromise, and double that with the Upromise card for 10% Cash Back (or use the Ink Bold for 5% Cash back and 5x Ultimate Rewards if you prefer).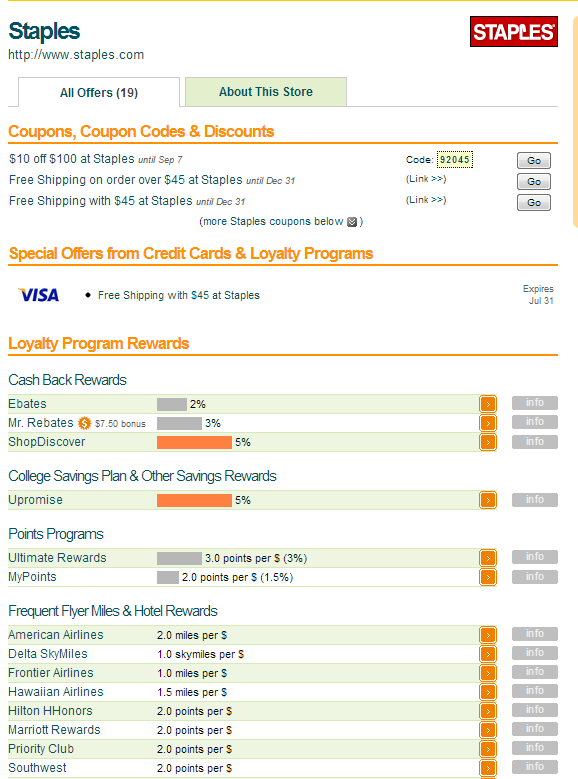 Upromise Friends and Family Program
Upromise allows you to invite Friends and Family to your program, and offers them the ability to send you all of their earnings, or just a part that they feel they want to share. You can have many people join your program to feed the account, and they claim people who do this on average earn 3x more than someone who does not.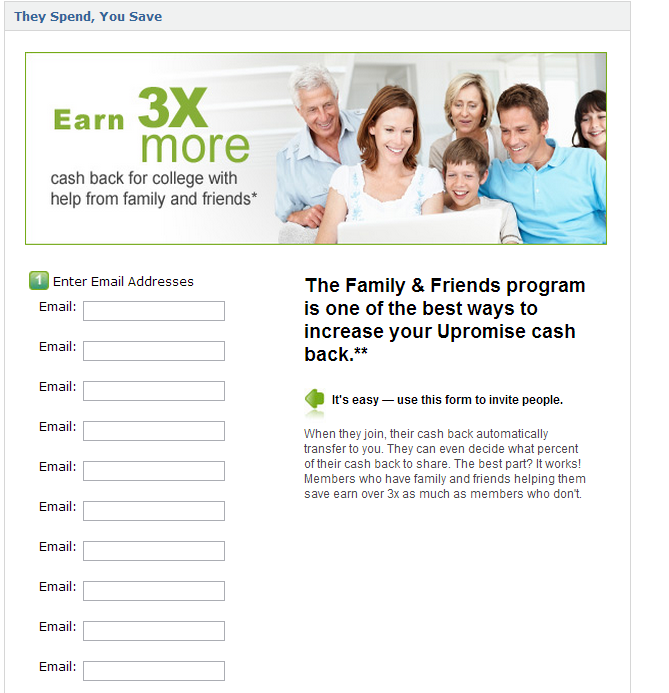 Caution here – the amounts transferred into your account are considered 'gifts' from a Tax perspective, so you need to factor that in if you are already receiving cash gifts from these people you need to factor that into your maximums before you start having to pay tax on the amount (you can receive $14,000 per person, $28,000 per couple in 2013 from each person).
All in all, I think Upromise is a very interesting program, and with the 'send check' option is available to a much wider audience than those just going for a 529 Plan, or seeking to pay down their Sallie Mae Student Loans, it is in fact, open to everyone!
Please note, the links in this post for the Discover IT Card and The Upromise Mastercard are Affiliate links, if you should sign up for these cards using these links I may receive compensation from them.  These are the best links that I know of for both cards.