Bank of America's credit division has unveiled a new product: the BankAmericard Better Balance Rewards card. Despite the fact that you get no rewards whatsoever for spending, this may be a card worth keeping around for some people. In fact, this card could earn you $120 per year for doing nothing. Intrigued? Read on.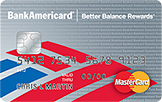 Here's the marketing pitch from the website:
Earn $25 in cash rewards each calendar quarter when you pay more than the monthly minimum and pay each bill on time – up to $100 in cash rewards each year

Get an extra $5 bonus per quarter if you have at least one other qualifying account with us for an additional $20 in cash rewards per year – that's up to $120 in total cash rewards per year
So in a nutshell, if you make 12 on-time payments for more than the minimum and you have another Bank of America account, you get $120.
Now,this card is directed at people who carry a balance. But you need to read the fine print to see an important clarification:
Qualifying Payment — A monthly payment received on or before the Due Date, which is more than the Minimum Payment due;
a payment in full received on or before the Due Date is a Qualifying Payment
Any full payment qualifies. And if your credit card payment happens to only be only one dollar and you pay it in full, then you've qualified.
So to maximize this deal, all you need to do is get the card and set up an autopay with a utility for $1 per month, and for your efforts you'll be awarded $30 per quarter in perpetuity (or until they change the T&Cs on this card, whichever comes first).
$120 is low enough that it probably won't attract an excessive number of people who are into the card just for the money, as there are plenty of sign-up bonuses out there paying several hundred dollars a pop. Hopefully that means this card will be around for a while with this bonus structure for years to come!