The other day, I was reading CTP's article on chip & PIN cards, and remembered that the reason I had applied for and gotten USAA's rewards World Mastercard was that it is one of the few US-based credit cards that offers a chip & PIN option. The original card looked like this: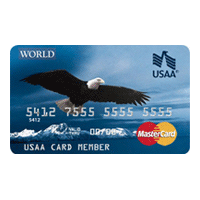 You have to call in and ask for the Chip & PIN version, which also comes with a magnetic strip, so it can be used virtually anywhere. I called in, and although there was an initial delay (this was around the time of the Target credit card fraud), this beauty finally showed up in the mail: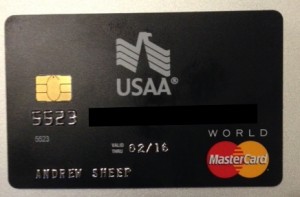 Despite the fact that it's jaw-dropping gorgeous, I don't think I'll use it a whole lot, because it doesn't offer any category bonuses and has a 1% foreign transaction fee (that USAA will waive if stationed abroad or deployed). But it's always good to have in your pocket if you need a chip & PIN, like I did in Milan.
The list of cards here in the US which have or which can get Chip & PIN capability is surprisingly small. Other than this, you have the PenFed Credit Union Promise Visa, the GlobeTrek Rewards card from AndrewsFCU, and for civilians, the Bank of America Travel Rewards card. Also, Chase announced recently that later this year, they'll move to a Chip & PIN card, and the Target REDcard will be going to a Chip & PIN early next year (HT to PFDigest). I think because of increased fraud, most companies will be moving this way eventually.
Whether or not you want them here, they can definitely be beneficial to you should you happen to travel to a place where they only accept Chip & PIN cards, such as certain stores and restaurants in Europe. On my recent trip to Milan, I stopped to get gas for my Fiat 500, using my Arrival card (w/ chip & signature), and was asked for a PIN. I'd never set a PIN, so tried several things including 0000, but none worked, so I had to go to another station. However, up until a couple of days ago I was unsuccessful at finding any US-based credit card providers who offered Chip & PIN cards; they were all magnetic strip only or Chip & signature.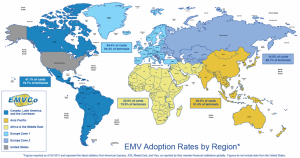 Here is a guide, via creditcards.com, on current world EMV adoption rates.
Are there any Chip & PIN cards I'm missing?