Plans for Vancouver and Seattle over the 4th of July next year are starting to take shape.  We have our outbound flights, and based on availability, have opted to fly into Vancouver.  The plan for this trip is to primarily "spend" miles and points, as our balances are probably a bit higher than we would ordinarily burn over the next 12 months and we don't have big plans to travel for long stretches any time soon.  In this installment, my research is primarily focused on finding hotels in the area, preferably available using a points currency that I already have, and selecting what I hope will be the best option.  As I've not actually been to Seattle, let alone stayed in these hotels, a corresponding trip report will be in order to close the loop on whether I chose wisely.
Introduction
Outbound Flights
Vancouver Hotel
Seattle Hotel Return Flights Activities  
For this trip, we are mainly focused on Starwood and Hyatt options because our balances are mostly in the form of Hyatt, Starwood and Chase Ultimate Rewards.  Still, we love Fairmont hotels, dating back to our wedding at the Fairmont D.C., and always take a look at those options when heading to Canada.  While we'll generally get what we expect on the Hyatt and Starwood side up north, Fairmont has some unique and frankly awesome properties across Canada.  Not to digress into places we won't be going this summer, but the Fairmont Chateau Frontenac might be the most unique (chain) hotel in North America.  As a general tip, if you're headed to Canada, put your points and elite benefits aside and at least take a look at what Fairmont might have in the cities on your itinerary.
Fairmont
There are four Fairmont properties in Vancouver, which if I'm keeping score, is the highest concentration of Fairmont hotels in any one city.
The first option, which I won't cover in great detail, is the Fairmont Vancouver Airport, the only on-terminal hotel at YVR.  Our plans are more focused on seeing the city, and we enjoy walking more than driving, so we won't be booking this.  However, our JFK-YVR flight is often delayed and the 12:40am Pacific arrival is often later as a result.  If that ends up happening, there is a good chance we will just walk over to this hotel for one night, and if I see inventory start to dry up as we near departure I will strongly consider a speculative booking.
The remaining 3 hotels are all in the downtown area, with the Pacific Rim and Waterfront properties being about 2 blocks apart, and the H0tel Vancouver a mile from those.
Ultimately, nothing about the Fairmont properties in Vancouver jumped out at me as especially unique or something we "needed" to do.  At least not to the extent of paying cash for the stay versus points or points+cash somewhere else.  I'll keep the airport property in my back pocket just in case, though.
Hyatt
The lone Vancouver property in the Hyatt portfolio is the Regency.  This property is high on my list without doing much additional research because I am a Hyatt Diamond member, I have roughly a week's worth of Hyatt points in my account, other bloggers have generally enjoyed the property and it is centrally located – close to the SkyTrain, which would enable us to skip the rental car at the airport.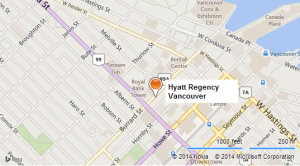 My Hyatt status came from a completed Diamond Challenge earlier this year.  Since then, Hyatt properties have treated us very well – usually putting us in a room large enough for a toddler to run around in and burn off some steam if needed and including a pretty good breakfast.  While I'm not one to suggest the best place to eat is the hotel, we usually do start our day there because the reality of toddler parenting is that we only really "get" 1-2 activities per day and we'd rather not burn one of those on breakfast, so I do place somewhat outsized value on the breakfast benefit as long as I'm confident in the quality of the offering.  Hyatts have rarely disappointed me.
My call to Hyatt Reservations was positive – cash and points nights were available at this Category 3 property for $75 and 6,000 points per night.  Based on that development, I made a speculative booking at this hotel.
Starwood
Vancouver is a pretty good place to be if you're loyal to Starwood, with 7 hotels in the greater metro area and 3 in the downtown area.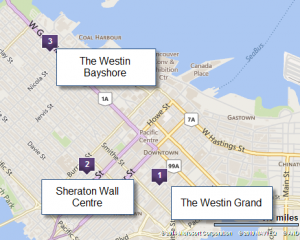 For this trip, we are going to stay downtown, so that immediately narrows my list to the Westin Bayshore, Sheraton Wall Centre and Westin Grand.  All of these hotels are SPG Category 4 and available for 10,000 points per night.
While there is nothing particularly wrong with any of these options, two things (at the time of this posting) jumped out at me about the Westin Grand:  It is an all-suite property and a Superior View Suite was available at the base point level.  The Superior Suite is one category up from their "standard" Studio Suite offering, and the View is best described as a higher of two subcategories within each suite type, putting you on a higher floor and facing out to the city or mountains.  The Westin Grand is also located closest of the three Starwood properties to the SkyTrain and central downtown area.
I am also an SPG Gold member through the American Express Platinum card.  While Starwood does not offer its Gold elites free breakfast, there is an option for free wifi.  Even at this hotel, the dining options seem sparse so I'm not counting on a solid breakfast option outside of the lobby Starbucks.
I did end up making a speculative booking on the Superior View Suite at 10,000 starpoints per night.
Conclusion (Or Lack Thereof)
I am ultimately submitting the question of where to stay to the jury (my wife and daughter), but I do feel that the research has yielded quality options in the programs that I'd prefer to use due to my points balances and status (Hyatt and Starwood), as well as one that we prefer as a family when paying cash (Fairmont).
With almost a year before we need to firm up the plans and then leave for the trip, do any of you have any suggestions on our options?  While I'm at it, do any readers have feedback on whether trip planning is worthwhile for your own vacation planning?
Featured image copyright MagnusL3D, used under Creative Commons license (CC BY-SA 3.0)