It's infrequent that we see a 2% cash back card with no annual fee offering a sign up bonus at all, but the Fidelity Investment Rewards American Express is my favorite all-purpose card and right now there is a $50 bonus for spending $500 within the first 60 days of opening the card account.
To get started, you will need a Fidelity account of some kind, as the only real stipulation is that the cash back must be redeemed into a Fidelity account.  If you just need a basic account, the Fidelity Cash Management Account is pretty hard to beat.  There are no minimums to open the account and very few fees – you get free checks, ACH transfers in/out, a Visa debit card, refunds on ATM fees imposed by the owner, automatic sweep across multiple banks to maximize FDIC coverage and more, without any maintenance fees.  We personally use a Fidelity Cash account in conjunction with brokerage accounts to manage all of our finances and I highly recommend it for that purpose.
That said, the Fidelity Amex works like a points card.  You earn two points per dollar spent on everything, without limits, which can be redeemed back to your Fidelity account for 1 cent each.  You can set up this redemption to happen automatically on a monthly basis – I have mine going to a separate account so that all of our cash back is set aside or invested.  Funding a travel account isn't a bad idea either.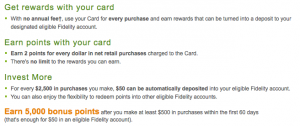 Milenomics has written about why this is the best cash back card, as well as the best travel cash back card.  Rather than ripping off their analysis, I suggest reading on.
A disclaimer, if you can call it that:  I'm not compensated for any of the links in this post, but I'm honestly not sure if anyone else is for the $50 bonus link.  It's the best offer out there, at least that I'm aware of, so I'm passing it along.