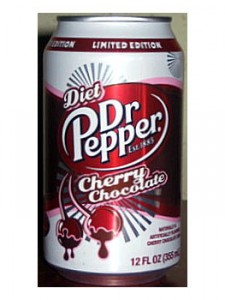 I wish this one were sweeter, I really do. After all, this is the one Avios sweet spot that includes my home airport. But as sweet spots go, using Avios through and out of Dallas and Chicago is like a diet drink. They can add cherry and chocolate flavor (or berries and cream and whatever other concoctions they've come up with) but unless there's some sugar in there, it just won't be that sweet. Similarly, as long as AA releases comparatively few seats out of Dallas and Chicago, they lag behind the other Avios sweet spots we've looked at from
the West Coast
,
the East Coast
and
Florida
. Still, there's lots of great potential here, so let's look at some maps of what we can do from the middle of the country using Avios.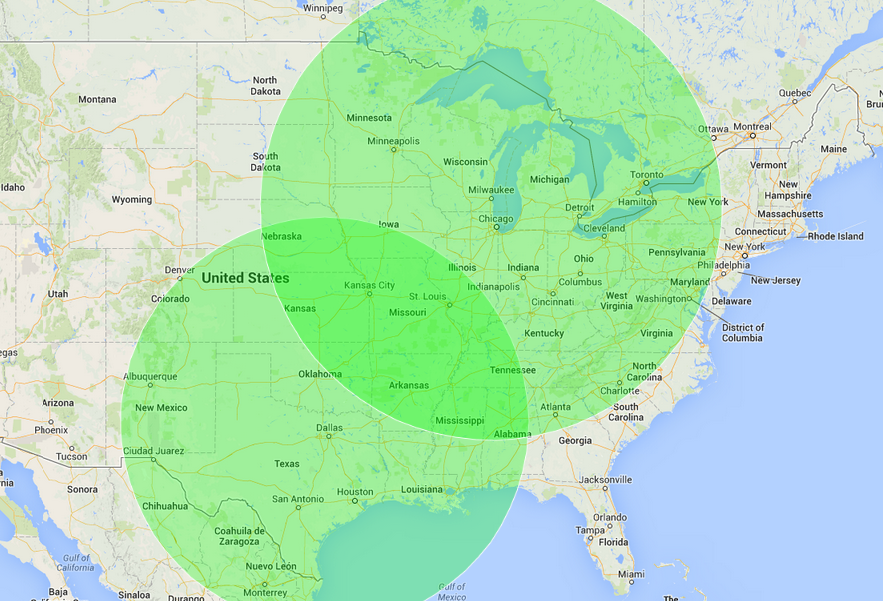 Within 649 miles of these AA hubs, nonstop flights to DFW and ORD cost 4,500 Avios. Map courtesy of
Free Map Tools
Like several other foreign award programs, British Airways Avios and Iberia Avios are distance-based programs. Since each segment is priced separately, these favor nonstop flights or combinations of flights that make the most of the Avios distance bands:

Since BA counts two-class first class as 'First' requiring 3X the points, Economy makes the most sense for most domestic flights in this post as there are no premium economy or business class seats offered according to BA's program.
You can find great resources on booking flights with Avios
in this post
and
this complete guide
, both by
Travel is Free
. BA Avios and AMEX Membership rewards points can also be transferred to Iberia Avios to save on fuel scam surcharges when redeeming on Iberia flights. Otherwise, BA's interface is a lot easier to work with.
Update: Iberia recently changed their award chart for flights on partners other than BA, Iberia, Meridiana and Vueling, to a new chart with much higher prices especially on short flights. Since
The Freequent Flyer
asked about
an IB Avios redemption on Twitter
, this devaluation of Iberia Avios has exploded on the blogosphere along with concern and speculation that BA might change their rates to match. You can read thoughts on this possibility
on the Saverocity Forum
, and
here
on Flyertalk. I might wind up having to rewrite all of these Avios sweet spot posts as LAN or JAL sweet spots if BA does in fact follow IB, since LAN and JAL have what amount to a similar distance-based programs. Except LAN is metric.
Distance band 1: 4,500 Avios each way
These are all of the cities that fall within the green circles in the first map. There are a couple of airports in Mexico here, but the Chicago-Canada possibilities are likely more useful to more people.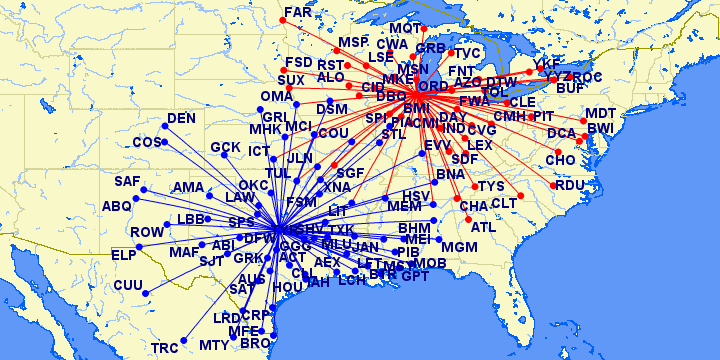 Click
Chicago
or
Dallas
for full maps and lists of city pairs on Great Circle Mapper.
Like we covered
in the East coast post
, these flights can be perfect for positioning. In San Antonio, we often find flights to DFW only open up during the last 21 days. We can use Avios on a separate ticket, continue on any oneworld alliance ticket and airline and be protected by
AA's misconnect policy.
Of course these are also excellent values for getting to and from Dallas and Chicago.
Distance band 2: 7,500 Avios each way
This band covers segments from 650 to 1149 miles. More of us get positioning opportunities, these hubs get excellent values to most of the country, and DFW – Mexico deals are really sweet.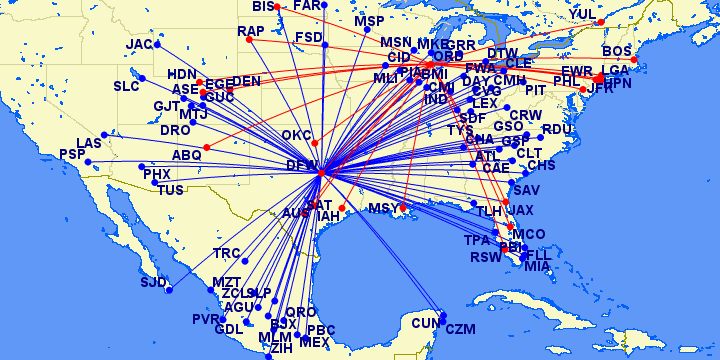 Click
Chicago
or
Dallas
for full maps and lists of city pairs on Great Circle Mapper.
Distance band 3: 10,000 Avios each way
This band covers segments from 1150 to 1999 miles. All routes in the lower 48 states and Canada from DFW and ORD not shown in the first two bands cost 10,000 Avios, so I've put just the international routes on this map. A few years ago, it would have included several more Caribbean destinations, but AA has moved most of its service to those
to Miami
.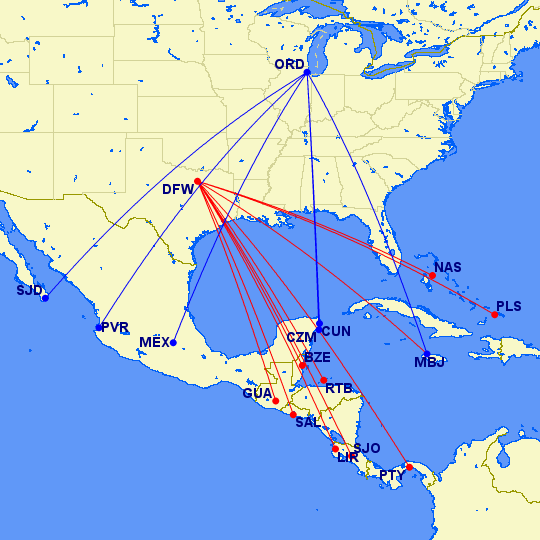 You can have some real fun here especially if you combine this with a United itinerary within Central America and Northern South America.
See, for 20,000 United miles you can fly roundtrip within the Caribbean, Central America and Norther South America. WITH a stopover. So for 20,000 Avios and 20,000 United miles, you could do a trip like this and stop for as long as you like in each city! Here's an extremely cool example, I recommend studying up
Travel is Free's United stopover post
if you want to try this: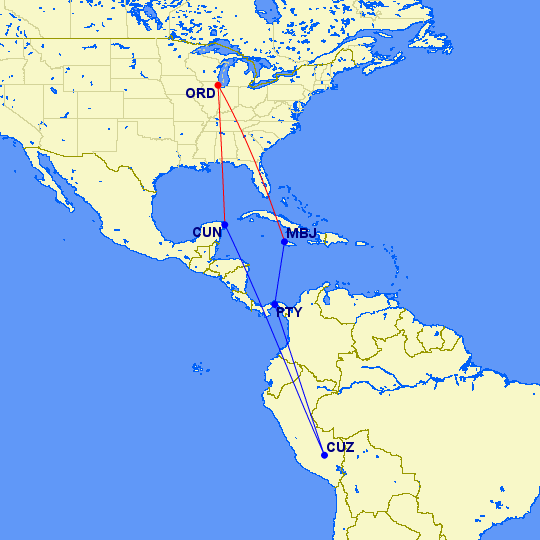 Four cities, 40K miles! The additional stops in the UA ticket are not shown.
Distance band 4: 12,500 Avios each way
Not much here this time, but we do get couple more international routes.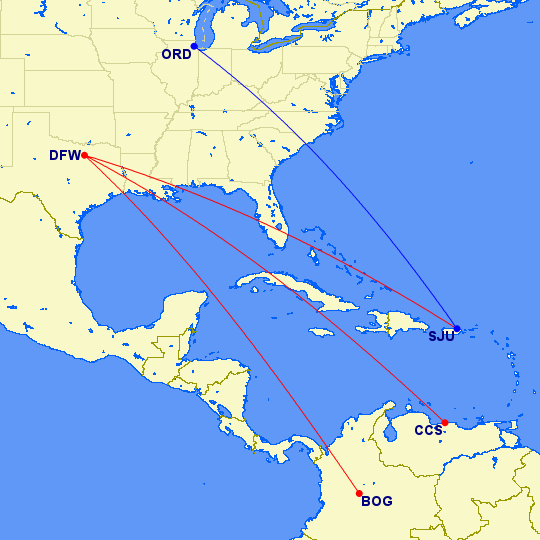 Until Venezuela gets settled down, good luck actually getting the CCS route.
Given that many people are looking to use Avios right now, like right this second, I'm posting this incomplete post. Click refresh after an hour or two for 20K and 25K routes!
-Kenny
Continue reading...