It has been about 4 months since I signed up for Social Lending Site Prosper.com, I began with an initial investment of $1,000 that I loaned out to 20 different people in $50 increments.  To read more about how I identified and funded those people please see the original post here:  How to Find and Fund Loans with Prosper.com
When I started the investment I opted to reinvest profits; whenever my repaid balance becomes $50 or higher Prosper.com will automatically select a new lender to loan that $50 to, based upon my initial criteria for risk category and desired Interest Rate – the upshot of which is that I now own 23 Loans (in the form of Notes) with them.
One thing that surprised me with seeking to fill the initial 20 loans is that a number of them took quite some time to fill up, so my money was sitting there waiting for distribution but nothing happened until the borrower reached their target amount.  However, after some weeks all loans were filled and now repayments have been coming in for a few months, return is currently very good, my annualized rate is currently at 15.12% APR which I think is an amazing number.  However it is expected that some default would occur, and this is likely to happen with time, so the number may reduce.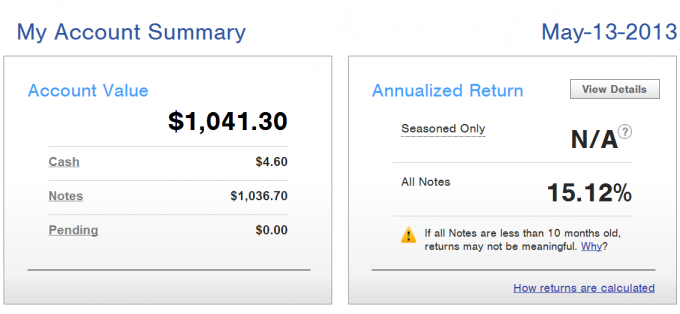 I have set my range of loans in the Risk Classes of B though D with average APR of 9.31%-11.32% accordingly.  These numbers are already factoring in possible default risk, which is why my actual annualized return is that much higher at 15.12%.  Frankly I would be very happy at even half of that rate in this economy, but I am hoping to keep it in double digits this year.
Here is the link to Prosper.com, I think they are an excellent component of a diverse portfolio and a great source of profit in a market where interest rates on traditional investment products are very slim pickings.  Please note that the links included in this posts are my affiliate links, should you decide to join Prosper through these I may receive compensation from them, I appreciate your support.