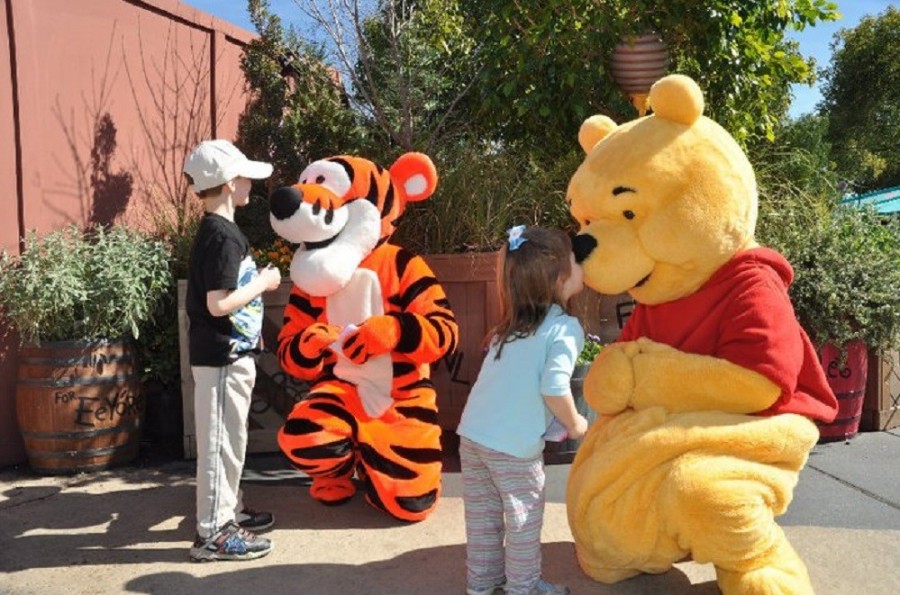 Disney World is the holy grail for most kids, and can be the downfall of many deal-seekers. Having been four times in the last five years, I can at least offer some hope that a trip to see the mouse doesn't have to be a complete budget buster. I'm posting some tips that have been hard-earned by myself and friends. Hope they help, and please include your own to be added!
To stay or not to stay in the parks? Having stayed both on-site and off-site, the clear Deal Mommy answer is off. I know, I know, sometimes Disney offers free dining offers and discounts, but the savings (and comfort) to be had off-site more than compensate for the location. I did a cost/benefit analysis of on-site and off for our last trip and the cost difference for a family of 4 staying in a mid-range resort on property and a 2 BEDROOM CONDO 1 mile away AND renting a car for a week was over $1000!
One benefit usually mentioned by those who love staying in the parks is the transportation options. The flaw in this theory is that it holds up only if you are visiting the park closest to your hotel. So while it is a piece of cake to get from say, the Polynesian to the Magic Kingdom or Animal Kingdom lodge to the Animal Kingdom, if you want to go to Epcot from Sarasota Springs you're in for a 45 minute wait and bus ride if you don't get lucky!
Having easy access to a car just makes life so much easier, and Orlando is the capital of cheap car rentals. I've rented full sizes for as low as $18 a day including tax! Even with the $14 a day parking fee at the parks, you will come out ahead. Another huge benefit of having a car is being able to hit off-site restaurants, groceries, and shops (more on those in a post soon). Not being restricted to Disney dining can easily save $100 a day for a family of 4.
So if you're not staying at a Disney hotel, where should you stay? My first choice is a rental condo (suggested links posted below), but if you're committed to a hotel and not a condo, here are two options I like:
Walt Disney World Swan
and Walt Disney World Dolphin
.
I think the Swan and Dolphin are a great mix of Disney convenience (they even have boat transfers to Epcot) and off-site independence. Rates are more competitive, even down to under $100 off season, and nights earn points in the Starwood program. You'll want a car as they are not on the Disney Magical Express, but even with a weekly car rental you'll come out ahead. Best of all, in my opinion, their restaurants (of which friends and I can vouch for Bluezoo and Il Molino) offer two free hours of childcare! My kids had such a great time in Club Dolphin last year that they begged to go back! Disney trips are so full of kid time, that two hour break with a great meal was worth every penny. Best of all, you can sometimes find them on Restaurant.com
.
If you're renting for 5 days or more and are sure about your dates, I recommend Endless Vacation Rentals weekly rentals. Endless is owned by Wyndham, which also owns RCI, the largest Timeshare bank in the world. I've rented through them close to 20 times over the last 15 years, including 4 in central Florida alone. I always double check property reviews with tripadvisor, so I'm sure what I'm getting, but I've never been disappointed with a property. NOTE: Stick to the "Weekly Stays" tab unless you want to tour timeshare as most of the "vacation packages" will require you to take a tour. The weekly stays will not require you to do so. They'll offer you one, and if we've gotten free Disney Tickets, parasails, etc. for taking them, but they are OPTIONAL with the weekly stays.
It's also worth a look on skyauction to check if your dates match any super-cheap availability. I've lucked out from time to time!
If you're renting for a shorter amount of time or think you might need to cancel your dates, I recommend Hotels.com
I like their page because you can search by accommodation type for "vacation home or condo", which give you more room and (usually) a kitchen and a bedroom door that closes! (Their narrowing options are on the results page.) I also like the fact that they have a rewards program that is not chain specific.
Please share your tips for lodging in and around the Mouse House!