I recently ranted against taking Mid-Atlantic beach vacations in August, for many reasons. Prices are sky high and crowds at their peak. While that's bad enough, as the chart above shows, late August and September are peak weeks for hurricanes to ruin your fun. NOAA puts out some really helpful showing historical hurricane tracks by month.
The handy charts also show some other trends that can be really useful. While Hurricane Season is officially June-November, take a look at June's Chart: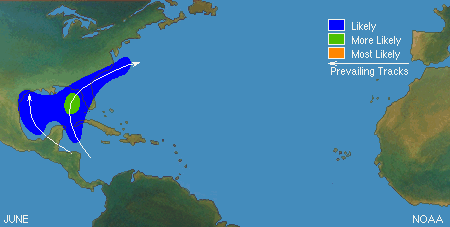 The chart shows hot spots mostly in the Mexico/Western Carribean, but the Eastern Carribean is wide open. However, since "off season" tends to apply to the whole area, lots of bargains can be had.
Now check out November: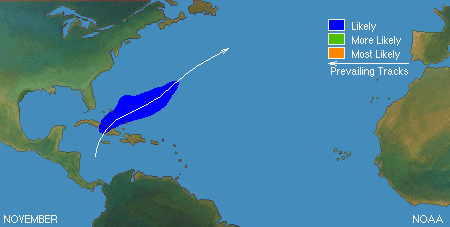 Besides a small swath with the lowest level probability, most of the area is wide open.
Also, take a look at the maps again…some areas have VERY low probability the entire season. Think A, B, C. Aruba, Bonaire, Curacao. They're the little dots at the edge of South America that are open even in September. All are far south enough that hurricanes are more than unlikely, they're an aberration.
Of course, anything is possible, but with some research it's a lot easier to consider some of those off season deals…and maybe re-consider that Outer Banks rental for Labor Day weekend!