I love British Airways Avios Miles for short hop trips inside the USA, flying on their Partner American Airines.  They are the cheapest way to travel, and providing that there is American Airlines Saver Award seating available you can book with Avios, with no late booking fees so they are perfect for the last minute getaway.
I love them so much that I have accumulated over 300K worth of them in our Household account (BA allows Household Account Sharing) and now, I am worried… I hate to hold onto miles for any length of time as they inevitably will be devalued by the airline at some point – it is a earn and burn lifestyle we lead.  As such I am always looking for alternative ways to spend my miles, and I stumbled across a very interesting one today, that offers savings by transferring your British Airways Executive Club Avios into… Avios – which has to be the most confusing name for a separate loyalty program that those dastardly Brits could have thought of!
I had heard in the past from a great post here by Brian, The Points Guy that you could save fees on Iberia by transferring your BA Avios to Iberia Avios, which was very useful, and today after exploring I found several more options if you transfer to the other other Avios, called… Avios: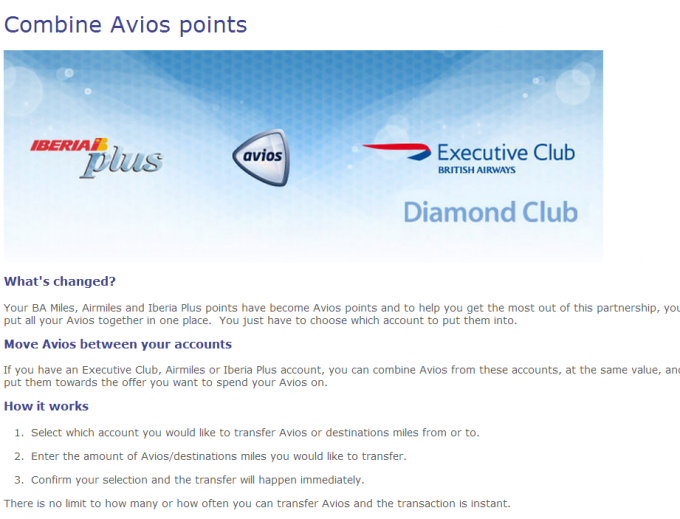 5 Good Reasons why you Should transfer British Airways Avios to Avios
1. Access to new Airline Partners
This is very useful for both UK Based Travelers and those visiting the UK who also want to take a mini trip during their stay, most of these are short, nonstop flights to unusual destinations, such as The Channel Islands (located between the UK and France) and various places in the Mediterranean such as Malta and the Canary Islands.
It is also worth noting that many of these trips qualify for the BA Reward Flight Saver ticket which reduces your Taxes and Fees to a flat rate – the rate is bumping up on July 11th 2013 from 30-35GBP for Coach RT and from 40-45GBP in Business RT, still a great bargain, see below for an example of some Reward Flight Saver tickets: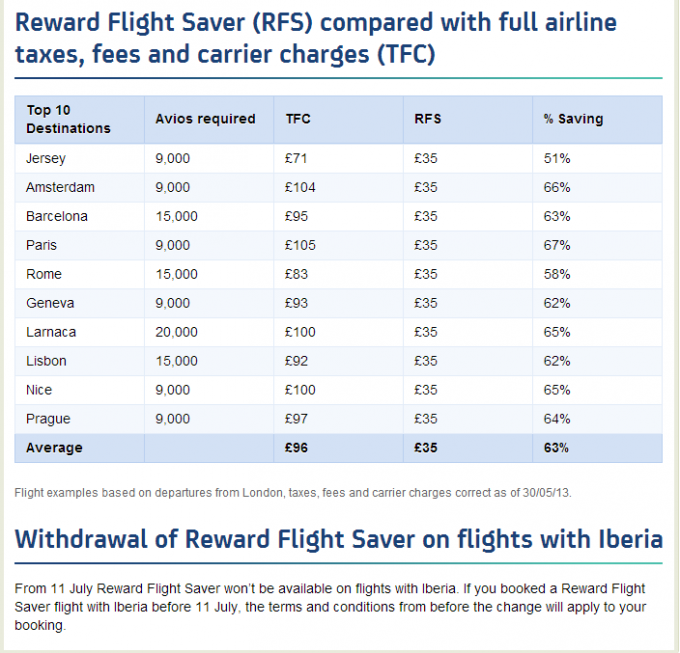 2. Get a lower rate when Renting a Car with Avios
One of the ways you can spend either British Airways Avios or Avios is on Car Rental – For no real reason I can understand, paying for a Car Rental with Avios is cheaper than paying for it with British Airways Avios, as per a couple of scenarios I tested here for a day in London: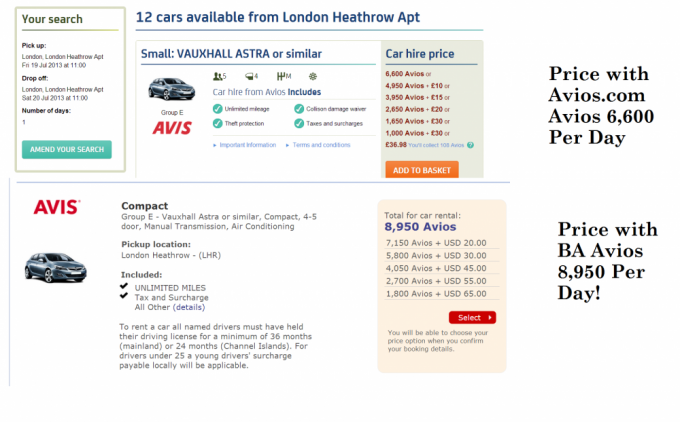 3. Book Train Travel on Eurostar
This is a great alternative to flying, as London is linked directly to Paris, and other European Destinations, the trip time from London-Paris is 2hr15 and would typically cost $112 RT, or you can book it for 9000 Avios, also there are lots of other alternative destinations that you could continue onto, seeing some of Europe by train.  This option would be useful if you wanted to visit the UK but not fly there (therefore avoiding the high taxes and fees you find when exiting the UK as you could open jaw your flights from a cheaper European city).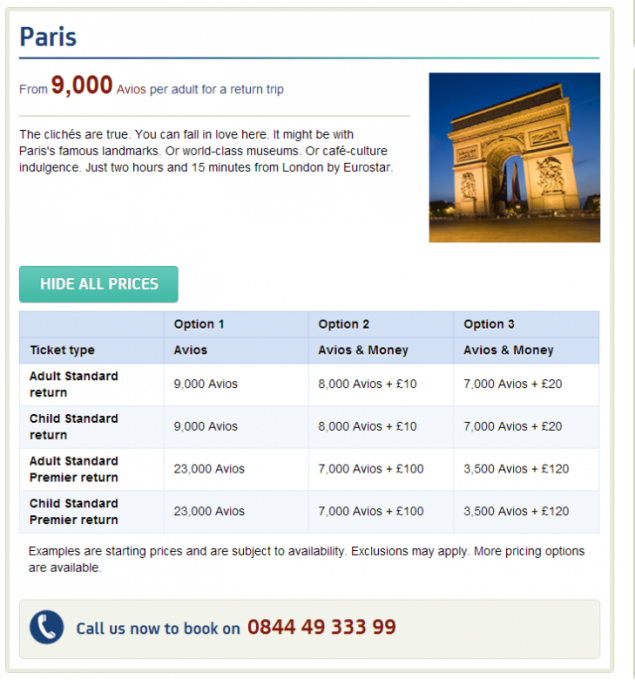 There are many more options available too, you could travel through to a number of exciting European Cities by train!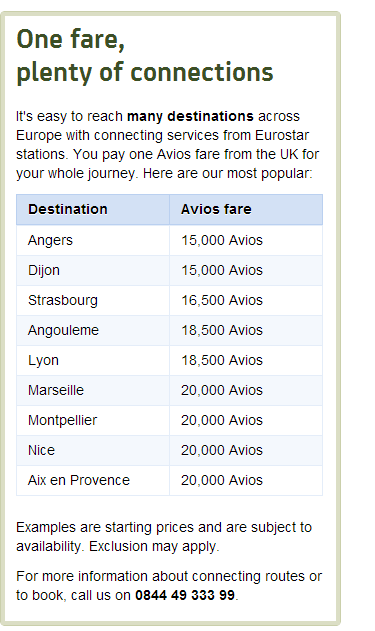 4. Get tickets to Theme Parks and attractions (UK Address required)
There are lots of options here for Theme Park tickets, such as DisneyLand Paris, for 8500 Avios Adults (Regular Ticket Price 76GBP) and 7500 Avios Childs (Regular Ticket Price 59GBP) one day admission. They also listed a number of key London attractions that are popular with tourists, such as the London Dungeon.  These tickets are mailed out, so you need a person to receive them for you if you plan to use this feature.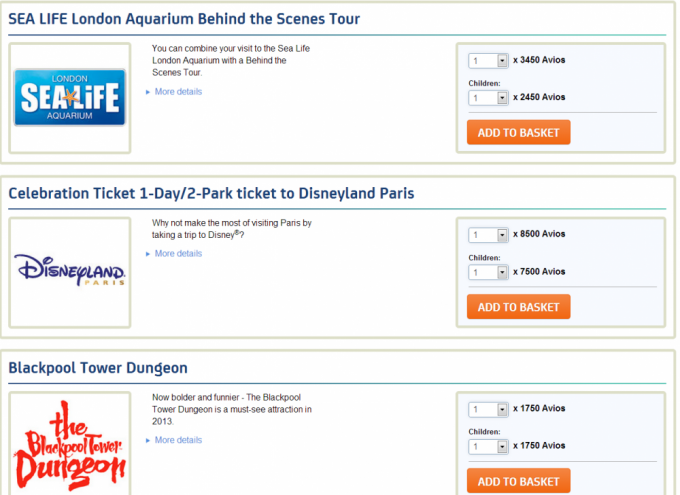 5.  Take a Ferry to France (or many other destinations)
You can book a car ferry and take the family to France from the UK from 25,000 Avios (Total) for a Roundtrip journey, with car, 2 adults and a Club Cabin – you can openjaw the route so you can depart back to the UK from a different Port for the same price.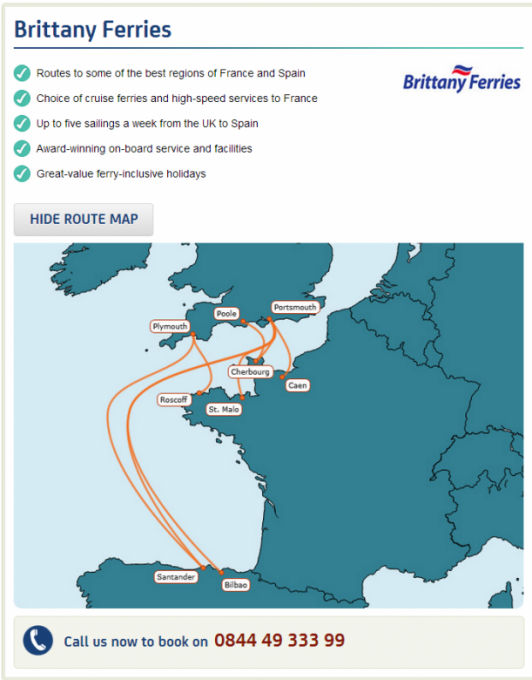 Getting Started for the Transfer of British Airways Avios
Step 1 Set up an Avios.com Account
Avios.com is the home of Avios, and despite listing British Airways Avios all over their site your account won't work there, you will need to create a new account online.  I did this and it did ask me for a British Zip Code and Phone number, but did not do address verification (I used my US Street Address and changed the Zip to British one, and made up a British phone number number), account set up with no problems.  It is clear that some of the things that can be done with Avios require a UK Address for the mailing of Tickets, and some do not, so if you don't have a legitimate UK address you might want to think twice about doing this.  For flights and car rentals, they wouldn't be mailing you a ticket so you should be good to go, and I have heard of non UK based people successfully doing just this. Just remember that its a bit of a grey area.
Step 2 Log into your British Airways account and Make the Transfer to Avios.com Points
Transfer Avios by following the screenshots (I must say I was a little concerned that I would be transferring my entire supply but for the purposes of Science and this post I went through the steps and no transfer will be done until you complete and confirm the exact amounts of the transfer.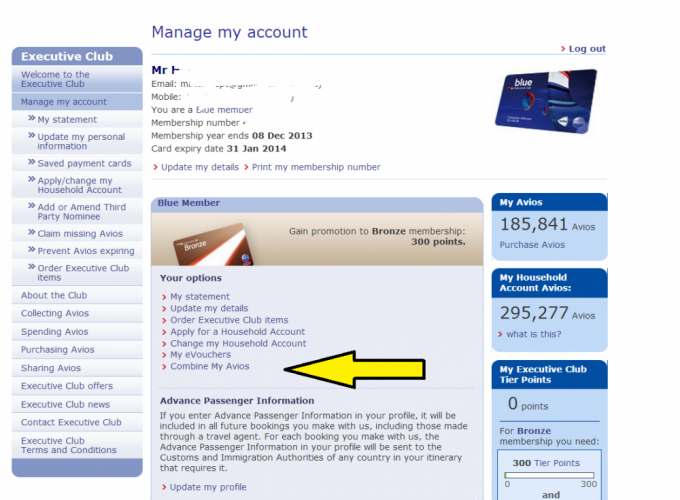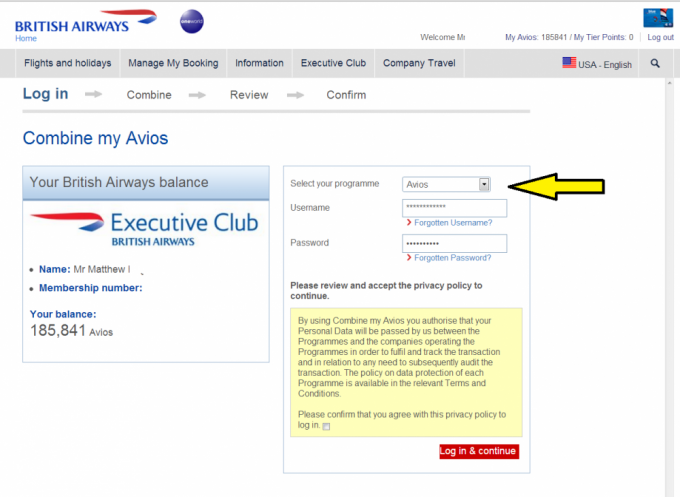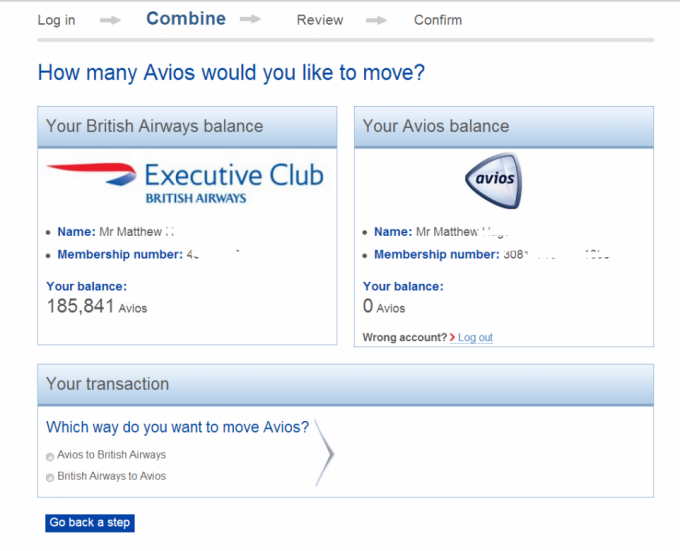 I was a bit worried, because the 'enter amount button didn't appear immediately, so I took my life in my hands thinking I might just transfer my entire balance by accident, however not to worry, as it allows you to select any amount you like, after you hit the Radio button to pick the direction of the transfer.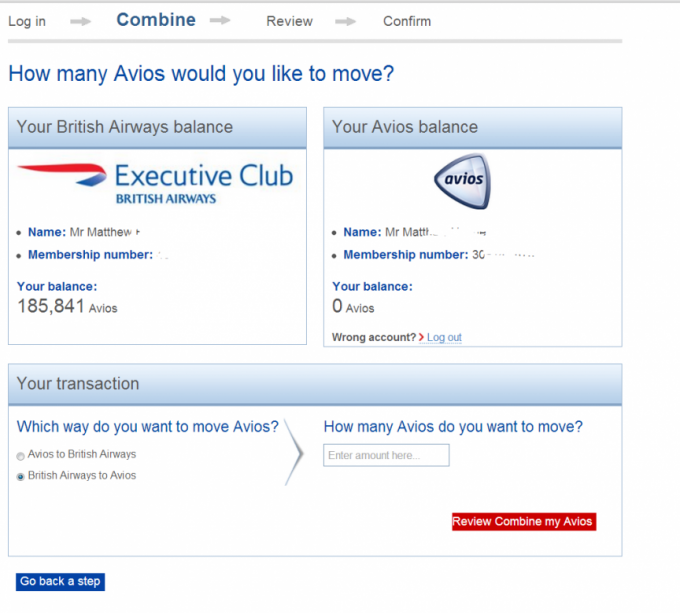 Panic over, I selected an odd number, so as to have enough for a 7 day car rental in the UK, it was good to see that it doesn't force you to move rounded 1000 amounts too!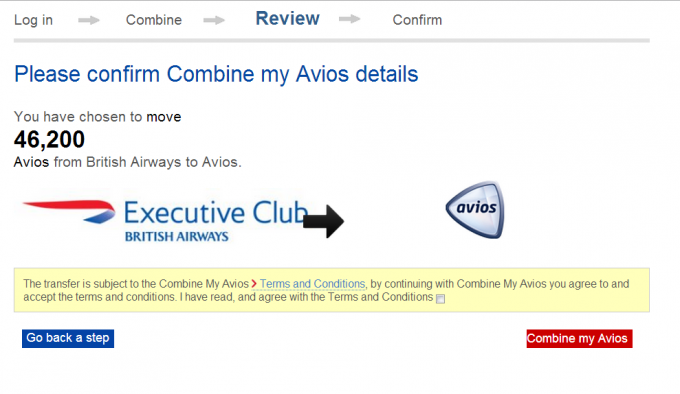 Step 3 Book Your Desired award from Avios.com