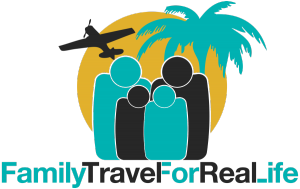 Travel with kids is not only possible, but necessary. By sharing the world with our children, we expand both their minds and our own, creating a lifetime's worth of wonder that can come no other way.
I'm happy to report FT4RL went better than I could have imagined. The speakers brought incredibly diverse experiences to the table from chicken buses in Guatemala to (gah!) first class to the Maldives. We had an engaged group of guests, everyone had great feedback about the sessions, and most importantly we all left with both concrete tips to use in our travels and a network of new friends to help us share ideas.
I can't thank Shawn, Jason, Phil, Susan, and Debra enough for their generous donations of time and knowledge.
Hat tip goes to Dan for live blogging FT4RL so I don't have to do a detailed recap! You'll get a real flavor of the sessions by checking out his posts.
My favorite part of FT4RL wasn't the sessions, though, as fun and informative as they were. My favorite part of the event, as it's "Mom", was watching the room fly on it's own. We've all been to events where the vibe was just "dead", and it's always a fear when you have a party that people won't gel. I knew before we even started that FT4RL was going to work because the guests quickly got to know each other and by the time afternoon break rolled around, I had trouble getting everyone back to their seats for the last session!
The event officially ended up at 5, but we were in the room until 6:30 until we rolled the party over the bar, then closed it down. THAT's the sign of a good event!
Will you be at FT4RL2? Please share any ideas about timing and location in the comments and I'll get a poll up in a few days.
PS: Shout to the Hyatt House Dulles Airport for hosting. The hotel universally got high marks, even for the food (which can be hit or miss at a hotel event). We all raved over the desserts…the cupcakes were straight out of a gourmet bakery! If you have an event to plan in the DC Metro area, definitely reach out to Heba and Terrell in the sales department.