Earlier this week, Skift reported on a seat from Zodiac Aerospace that "erases the line between business and first class." I couldn't disagree more with that assertion. But before I get into why I disagree with their statement, let me first offer some background about the seat.
About Zodiac Aerospace's Fusio Seat
Zodiac Aerospace first introduced the Fusio concept at the Hamburg 2014 Aircraft Interiors Expo. They took that concept, enhanced it, and displayed it at this year's Aircraft Interior Expo (AIX15). Zodiac describes it:
Fusio takes a new approach to prestige luxury with an amazing living space thanks to a sofa seat offering a dynamic seating comfort and a streamlined versatility allowing many different positions as one will do at home.

This high-end concept offers a package of sophisticated technology and refinement with a home feeling monitor integration up to 27", a one piece table up to 20" x 15", luxurious upholstery with high level of quality close to VIP finish, smooth integration into the design, coat room for each pax…

– See more at: http://www.zodiacaerospace.com/en/new-super-business-class-zodiac-seats#sthash.87IjZDJW.dpuf
Skift's Marisa Garcia says that Zodiac Aerospace has:
Put so much First Class in the Business cabin that we're assigning it the new label: VIP Business First Plus Cabin for One.
and further adds:
Zodiac is targeting the FUSIO at luxury carriers which may re-think the value of First at the front on certain routes and which are eager to make better use of their aircraft, without sacrificing even a tiny bit of their hard-earned reputation for spoiling passengers silly.
But, I'm not convinced.
What does separate First Class from Business Class
To answer that question, lets first look at business class. As Gary Leff of View from the Wing has written multiple times, Business Class is all about the seat. I agree with this statement. When I fly business, I expect a layflat seat, and a reasonable meal. I don't expect fine champagne, caviar or anything else. I wouldn't turn these things down, but its not expected. So for business class, you're generally looking at a seat like this: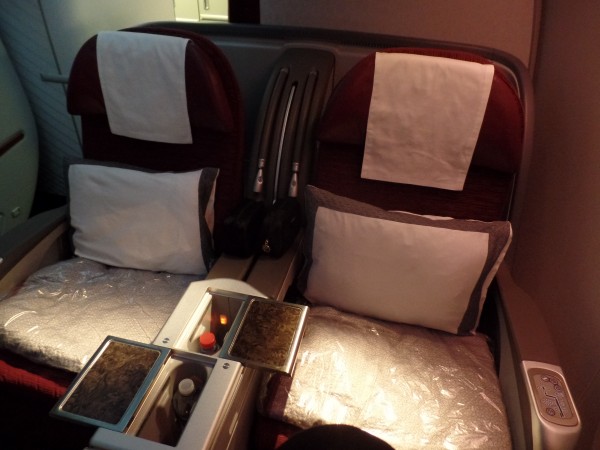 And for First Class, you're looking for a seat like this: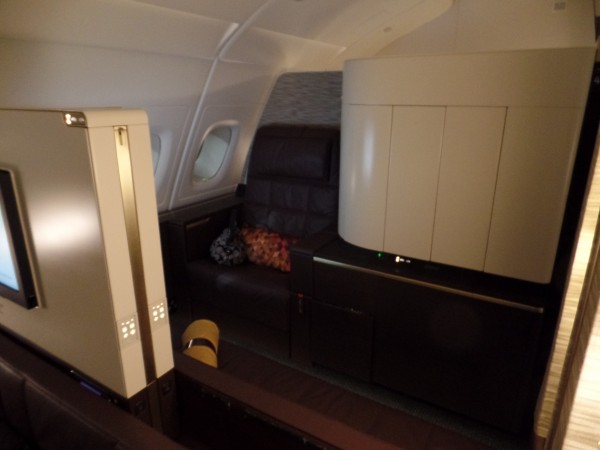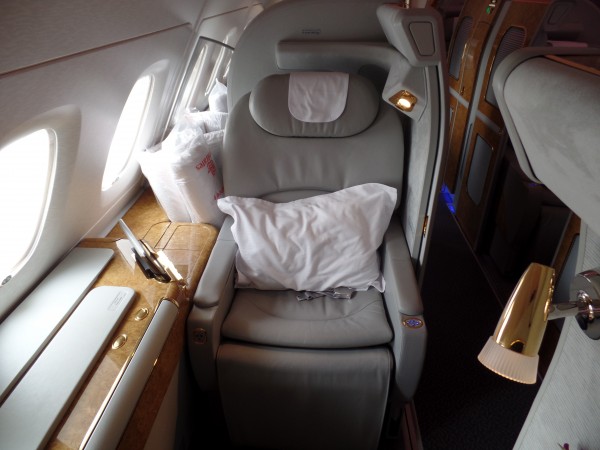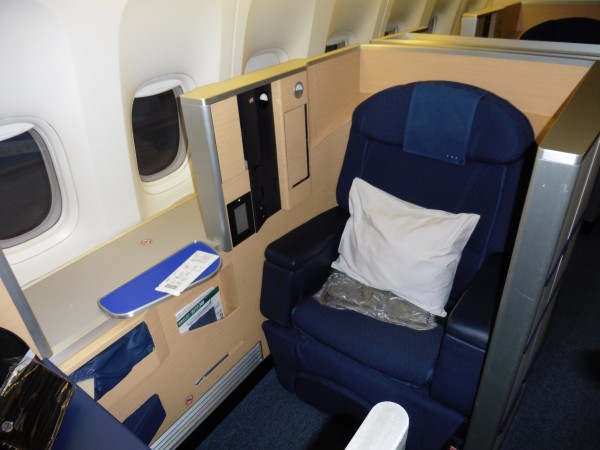 While the first class seats offer a bit more room in some instances, at the end of the day, both business and first class seats lay flat.  What separates the two classes are the food, drinks and service. In first class you are expecting/looking for something more then just a comfortable seat.  You're looking for the caviar, the meal, the sake, or the wine, like this: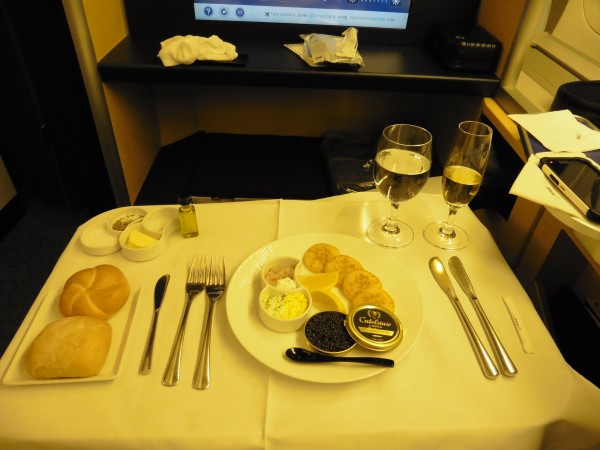 Wrapping Up
In short – you can offer nicer seats for business class, but the seat isn't what will make the flight a true first class experience.