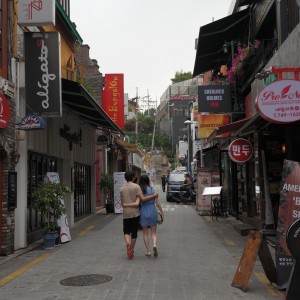 Introduction
This is the final section of a set of observations from a short weekend to Seoul, South Korea. The previous posts were observations of our flights, and of our hotel, the Grand Hyatt Seoul. We only had two and a half days in Seoul, so we primarily stuck to closer areas near the hotel in Myeong-dong, Itaewon, and Yongsan.
Seeing the Sites
The first day we walked a bunch, below roughly outlines the route we took; we typically just walk in a general direction.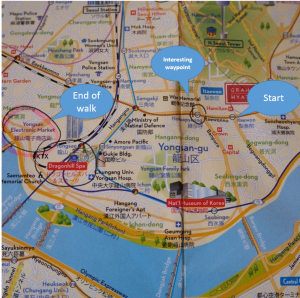 Impromptu walking tour.
It was interesting though because Itaewon-ro happened to have country plaques in the sidewalk,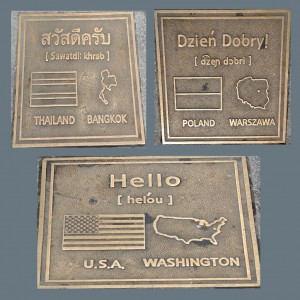 Country Plaques in sidewalk.
We're also dog people, and noticed this guy looking down on us.
Completely unplanned, even though it is pretty clearly marked on the above map, we ended up stopping at the War Memorial of Korea. They had US and Korean exhibits It was pretty interesting to walk around.
We ultimately walked to Yongsan Electronics Market, although I can't say it was particularly "awesome." We ended up spending much of the next day and a half in Namdaemun Market and Myeong-dong areas. The cool part of Namdaemun Market is that there are some wholesale shops as well as your general open air market.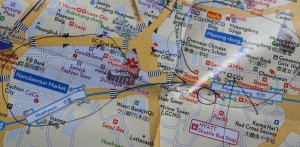 Sampling Seoul's Culinary side
We made it a point to try a variety of food in Seoul. Usually I'm hesitant with this, but I decided that I absolutely needed to try some kimchi (I regretted having too healthy a helping!). The Korean Barbecue was pretty good though!
There's also some street food, and "semi-street food" like "Isaac" in Myeong-dong, which had a great ham, egg and cabbage toasted sandwhich.
And if that food isn't to your tastes, perhaps you can order some McDelivery.
Wrapping up
We ended up walking a bunch in Seoul, which was refreshing, and how we usually like to see a city. The food was good, although the Kimchi is pretty spicey. I'd say, depending on what your goals are, you could definitely see a lot of Seoul over a long weekend. We didn't get up to Namsun Park, or up the N. Seoul Tower, but that's not usually our thing.