This is part of our Thanksgiving Round the World trip, you can find my initial thoughts / intro here, and The Grand Hyatt Tokyo review here. 
Reason for choosing:
We chose this hotel primarily because of its location. Its only a few blocks from Tiananmen Square, and there's an attached mall. We were also rather keen on choosing a Hyatt because we had the most available points at the time, and Beijing can be expensive (I generally view anything over $200 a night as expensive).
Lobby and Check in/Check Out Experience:
Check-in was actually not in the lobby, it was in the Grand Club, which was rather extensive at the Grand Hyatt Beijing. We were surprised (more later) that we would have to pay an additional $50 per night for my mother in law's room so she would have lounge access. It's in Hyatt's terms and conditions, however based on my research it's more common for hotels to just comp it, especially when a diamond member is paying for two rooms. Check out wasn't especially eventful. We were able to check out the night before in the Grand Club and the following morning at ~5am we just turned in our keys.
Where the hotel stood out:
Well before we embarked on our trip, I reached out to the hotel to set up transfers from the airport and a tour to the Great Wall. For transfers, they stated that they would meet us at the "airbridge" not knowing if they really meant the jetway or not, we were optimistic. I ended up having to take a separate flight which arrived about 10 minutes earlier than my wife and mother in law, and was pleasantly surprised to see an escort waiting for me. There was a second escort at my wife and mother in law's gate. By the time we made it to customs, I felt like we had an entourage. Before we knew it, we were in a BMW 7 series and on our way to the hotel. For the price (which I think was less than $150 from memory), it was a steal. I highly recommend it.
The hotel also set up our Great Wall tour. The tour guide they linked us up with was wonderful, but I'm only really going to give the hotel tangential credit for this one.
My mother in law had a standard room and see seemed to enjoy it very much.   Though we had to pay for the lounge access for her the hotel staff took note that she might prefer to be closer to the lounge and thus put her on the same floor as the lounge with a nice view of the hotel entrance.
We had a suite on a lower floor thought it looked a little aged.  We had a similar view as the lounge looking out towards the Forbidden City.
The pool was indoor, and more of what I would expect in Las Vegas. In fact, the pool had the level of attention that reminded me of Paris Las Vegas casino. It was especially comfortable, had two hot tubs, more than enough room to swim laps, or just meander through the pool, very comfortable lounge chairs, and rather intricately detailed ambiance. Even the ceiling was painted.
Finally, we did enjoy the Grand Club. It wasn't spectacular, but it was more than sufficient for our needs. The Grand Club also had longer hours than we'd seen at other hotels, from 5-8pm.  For us this was especially nice, as we exhausted my mother in law each day to the point where it was more enjoyable to just regroup and enjoy a light evening meal in the lounge over drinks. We especially appreciated Vincy (sp?), a lounge attendant who was there most of our trip. She spent a fair amount of time with us, and even taught, then gave us a chance to practice some Mandarin.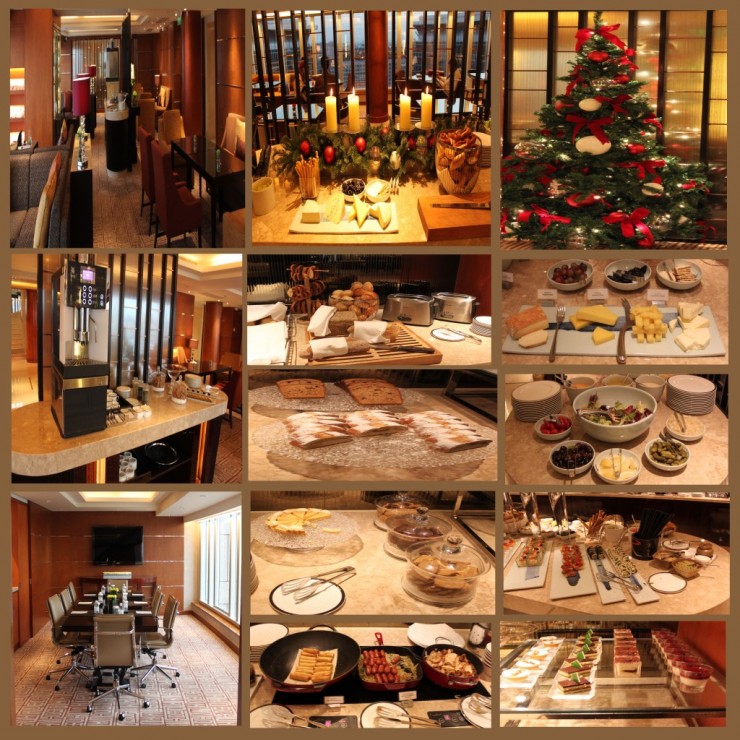 Where the hotel fell a little short:
The internet was beyond bad. For a previous job, I had the chance to spend a significant time in Ghana (in West Africa). While I look back positively on my time there, the hotel (a non-chain) however had horrible internet. That would've been magnitudes better than what we had at the Grand Hyatt Beijing. I'll be blunt: That should be an embarrassment. That is irrespective of the fact that Twitter and Google (including much of Google Mail) are banned in China. In fact, when I made a comment to one of the lounge attendants that I needed to check something in my e-mail, she asked what e-mail, when I responded gmail, she smugly said: "Google is blocked in China." That left a bad taste.
The second piece, which I mentioned earlier was that we ended up paying $50 more per night for my mother in law to have lounge access. Of course, this is within the terms and conditions, and they did ensure her room was on the same floor as the lounge, but, I've stayed at other hotels where they've extended the courtesy. I suppose it made a bigger deal to me, because if she had been staying in our suite (which could take up to 4 people), there would've been no extra cost, however getting a second room for her (reference the earlier definition of "expensive"), we had to pay.
Ultimately, I ended up sharing my experience with Hyatt's Diamond Customer Service, and they were kind enough to credit us some miles for the poor internet.
Wrapping Up:
I really don't like to be a negative person, and this hotel had a lot of positives. Their transfer service was some of the best that we've had. We really appreciated Vincy in the lounge. But really between the internet and the additional charges, this hotel left a bad memory. For a night or two stay, I'd recommend the hotel if you think you'll use the transfer service, but, absent other hotel experiences in Beijing, I'd still recommend for longer stays to look elsewhere.