Over the past couple of months I haven't traveled as much as I usually do, but the few times I have stayed in a hotel, have been really surprised from a few aspects.
Hyatt Chesapeake Bay
Having stayed at the Hyatt Chesapeake Bay a few weeks ago, I was surprised to find quite a few signs laying out the proper etiquette, from how to act in your room, to hallways, to the Regency Club Lounge. For example: The hotel had a "The Good Neighbor Policy" sign on the back of the door.
I totally get the value of being a good neighbor, and perhaps just putting that on the back of the door, is a reasonable thing.
But, then you walk the hallways, and see signs like this: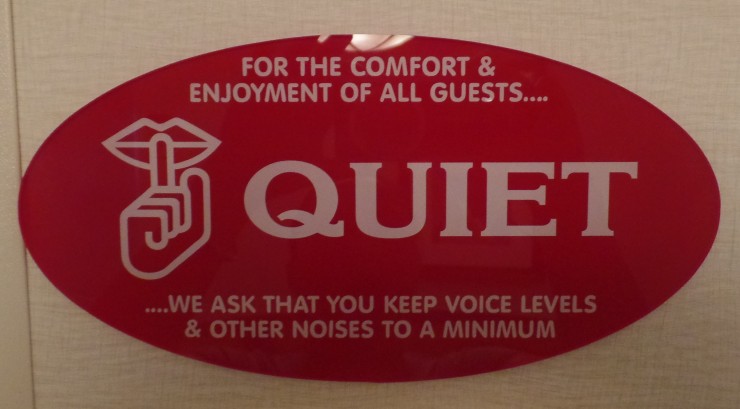 Ok, I get this one too, often times, I'll be woken up by people walking in the halls. But I'm not really sure that the sign actually stops anything. I mean, most people hear people talking in the hall as they pass their room, right? So, logically, if you don't appreciate that, you just speak quietly or not at all when you walk in the hallway to or from your hotel room, right?
This next one threw me for a loop. I've never seen anything like it before: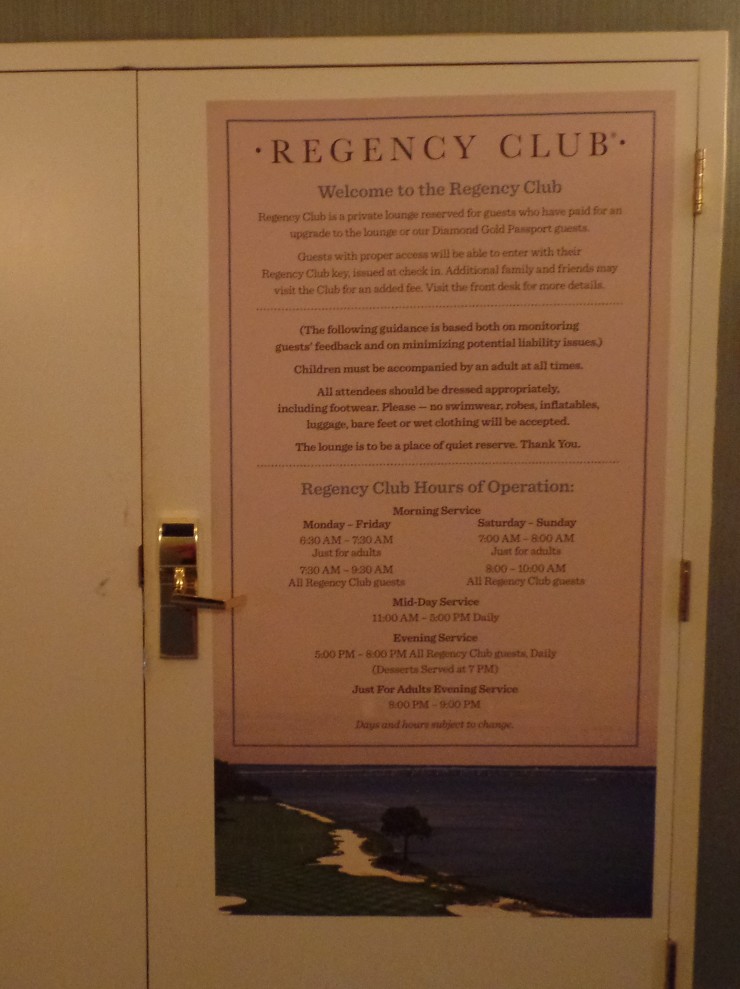 Mind you, this is plastered on both the inside and outside of the Regency Club Lounge's door. Now I often see statements (usually in letters provided to those who have Club access), stating the appropriate attire (e.g. no bathrobes, and if you've ever seen someone in the lounge in a bathrobe, you would agree that the "no bathrobes" rule is a good one). But I kind've feel they went a little overboard.
Hyatt Crystal City
Now cut from a few weeks ago, to this past weekend, where I was for Frequent Traveler University (FTU) – Advanced. I don't recall seeing any signs about common courtesy, and until about midnight Saturday night, I didn't feel like there was any need, because people acted normal. Mostly.
Until about midnight Saturday night. I get that people party, its a weekend night, you know, loosen your tie, let your hair down, and have some fun. Most folks do that in the bar, or at a club, or, if they're going to party in their hotel room, they usually have the common courtesy to get a suite, where there's at least a buffer from other guests. Not Saturday night. No, the room directly next door (and as one of 51 Diamonds at the hotel last weekend, I was not in a suite), was party central. My first clue was that I could hear them halfway down the hall, the second clue, was that they had the bar/chain lock keeping the door open.
Normally, I just kind've grin and bear it. I really don't like to create conflict, but, it happened that I had to get a good nights sleep, because I had to be up at 8am. So, I called the front desk and asked nicely if they could resolve the noise. They explained their process: They send security up, the first time is a warning, the second time, the party gets disbanded, third strike, they empty the room. It sounded very logical to me. Of course, an hour later, the party was still going on, so I gave up and found some earplugs.
Wrapping up
Having just stayed at two hotels, one that clearly lays out how you are expected to act, and one that doesn't. I'm left with the question: Is hotel etiquette a foreign concept?