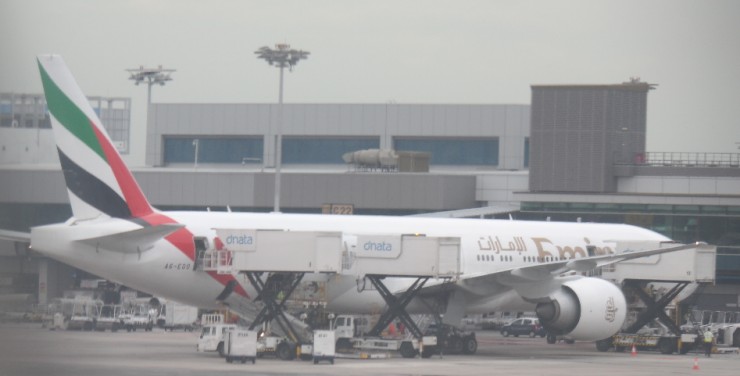 For as long as I can remember, Singapore Airlines had the two longest flights, that being, from Newark, NJ (EWR) to Singapore (SIN), and Los Angeles, CA (LAX) to Singapore.
Then after Singapore deemed the A340-500's that they flew in an all business class configuration to be a money loser, and cancelled the route, Qantas took over the route, first it was Dallas-Fort Worth (DFW) to Brisbane, Australia (BNE), operated on a 747-400, and then with Dallas-Fort Worth (DFW) to Sydney, Australia (SYD) operated on an A380. The next longest flights are Atlanta, GA (ATL) to Johannesburg, South Africa (JNB), and Dubai (DXB) to Los Angeles, CA (LAX).
In Comes Emirates
But, coming soon, Emirates, who, I suppose enjoys having the longest, best, most extravagant of anything, will take over the mantle of the longest commercial non-stop flight.
Emirates will launch Dubai (DXB), to Panama City, Panama (PTY), on 1 February 2016. Via this Skift article:
The westbound leg of the journey will take 17 hour 35 minutes. The new daily service on Emirates flight EK251 will take-off from Dubai at 08:05 and land in Panama City at 16:40. The return flight EK252 will leave Panama City at 22:10, and arrive in Dubai at 22:55 the following day.

"Panama City will be our first destination gateway in Central America, providing a convenient option for our passengers traveling from or through our global hub in Dubai and onward to destinations throughout Central America, the Caribbean and the northern part of South America," said Sheikh Ahmed bin Saeed Al Maktoum, Chairman and Chief Executive of Emirates Airline & Group. "We're also pleased to be the only commercial airline to offer a daily, First Class service to travelers on what will be the world's longest non-stop flight."
The flight will be operated by a 3-cabin (First, Business, Economy) 777-200LR, so, unfortunately, there will be no opportunity for a shower at 40,000 feet, or to spend some of the 17 hour and 35 minute journey chatting up fellow passengers at the onboard bar.
Of course, this will probably be a great opportunity to get award tickets on Emirates out of the Western Hemisphere, however you'll want to only pursue the 8 First Class seats, as Business Class is unfortunately an angled lay flat.
But how long will Emirates keep the "Longest Route" mantle?
Road Warrior Voices reports that Singapore Airlines wants to bring back the worlds longest flight, that being Newark, NJ (EWR) to Singapore (SIN). In fact, Singapore's CEO has said that he is in talks with Airbus and Boeing to develop an aircraft that could somehow defeat the laws of physics–that is, that could make the nearly 19 hour flight, and actually make money.
Wrapping Up
It's always cool to see airlines push for longer routes. In fact, it's not surprising at all to see Emirates adding Panama City, Panama to their route network. I suspect the timing of the flight may partially be due to the weight of the aircraft and the fact that the 777-200LR will require more than 90% of the available runway, if I read the specs of the 777-200LR, and the airport specs correctly.