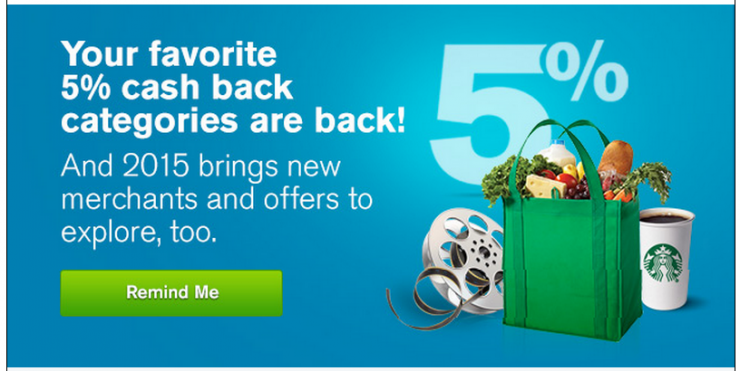 Chase has posted a preview for the Chase Freedom 5x categories for 2015, its not a whole lot different. If anything, the only thing that makes it different is that they aren't giving full details yet. Here's the preview for 2015:
Here's what Chase did for 2014 — you'll notice, complete overlap of what is identified. I suspect when the full calendar is released, we'll see Lowes in Q2, Kohls in Q3, and more department stores in Q4.
Remember, its only 5x on $1,500 spend, which, well, is pretty easy to do. Of course, if you stack the Chase Freedom with the Discover It and Citi Dividend, you're looking at $4,500 per month, $18,000 per year, resulting in $900 cash back (or better). Of course, if you've got a Chase Ink or Chase Sapphire Preferred, then the Chase Freedom 5x is more valuable than a penny a point since you can transfer them to an Ultimate Rewards partner.
For more information on the Discover It card, Doctor of Credit has a comparison of 2014 and 2015.
For more information on Citi Dividend – Rapid Travel Chai posted about those categories. Of particular note – it looks like applications for the Citi Dividend card have disappeared. But, Miles4More reports Citi allows downgrades to the card. Not sure how long this will last, but I'm thinking I may try to downgrade one of my American Airlines cards to it.