I wrote a few weeks ago about Toys R Us making 8% its new normal for credit card rewards. Now, it's possible to do even better: on Saturdays in November and Thursdays now through January 2015, you can get 10% back on your purchases made with your store-brand credit card at Toys R Us and Babies R Us.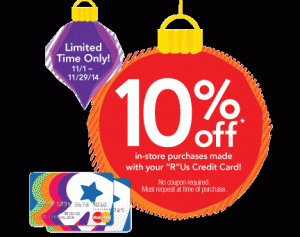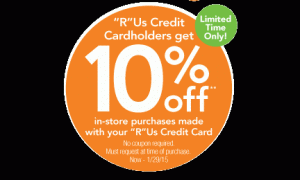 Obviously, when you see phrases like "10%" and "credit card" in close proximity, you'll start wondering if the gift card game is on. The terms and conditions exclude gift cards, though I'm not sure if they're talking about Toys R Us gift cards specifically or other retailers' cards as well. I did take a picture of the gift card rack the last time I was there and it was disappointing: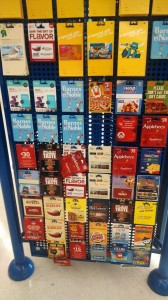 Commenter TJ left a comment on my last post:
*Some* Toy R Us sell Kindle gift cards, but many don't. Even when they do they don't carry a large number or restock fast (as discovered by slickdealers during Amex sync deals). My local Toys R Us has another gift card rack you missed with "gaming" and cell phone gift cards – stuff like karma coin, facebook, zynga, and various prepaid cell phone providers.
Incidentally, this is not the first time Toys R Us has run a 10% promotion–they did one over the summer as well. I don't know whether or not you can count on them happening regularly, but the powers that be are apparently happy with the results thus far. Note that this card is issued by Synchrony Bank (aka The Artist Formerly Known As GE Capital), so your credit line will probably be low.