ARE YOU SMARTER THAN WARREN BUFFET?: Here's a chance for you to match wits with Berkshire Hathaway! Thanks to Points and Pixie Dust (whom I didn't get a chance to say hi to in Charlotte, unfortunately) for bringing to my attention the Berkshire Hathaway Travel Protection AirCare plan. Here's what it covers: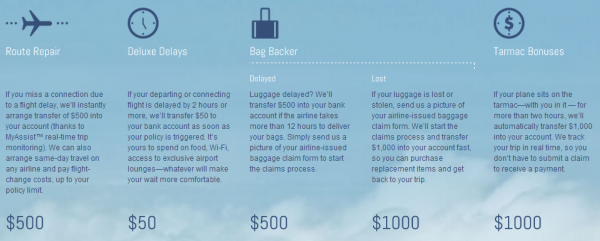 My travel expertise is limited, but there are ways to put the odds in your favor with this product. For example, what's the shortest connection time you can book after a flight known to frequently be late? What can you do to make your luggage more likely to get delayed, lost, or stolen? I look forward to someday reading the story about the slightly eccentric travel fanatic who figured how to make $500 per day with this product.
32-MONTH 0% BT: Those of you around in the 80s may remember the Cola Wars, but across the ocean they've got the Credit Card Wars:
A credit card war has broken out, with Barclaycard this week launching the UK's longest-ever balance transfer offer: a 0% interest rate lasting for almost three years.

It has upped the interest-free term on its platinum balance transfer card to a market-leading 32 months.

That puts it ahead of the Halifax, which recently launched a 31-month deal.
Not bad, but I'll take my unlimited 5% cash back, thank you very much.
HOW TO FLY FAKE FIRST CLASS: Unfortunately there's no picture included, but check this out:
When Jason Blum and his wife flew to Morocco last year, they could have gone first class. The cost, though, was $22,000. And Blum, possibly the most profitable movie producer in Hollywood, never pays full price when a cheaper alternative will do.

Instead, Blum bought a row of seats in coach for $1,800. He obtained the measurements of the legroom void in front of these seats and had a custom, trapezoidal air mattress built for $500. He packed this contraption into his carry-on. Once airborne, he inflated it, creating a combined seat/air-mattress surface large enough to sleep next to his wife. Estimated savings: $19,700.

"I got a lot of fans," Blum says of the alarmed and then envious passengers who witnessed the thrifty episode. "It's like everything I ever do. Initially everyone thinks I'm out of my mind, and eventually people come around."