Editor's note: Today's special guest blogger is Cyrus, who runs the Thousand Mile Secrets blog. Cyrus got into blogging last month and is eager to share his wealth of knowledge with friends and the rest of the blogosphere!
Hi everybody! I'm Cyrus from Thousand Mile Secrets, and I'm here to tell you about a little something called Automatic Teller Machines, or "ATMs" as they're known to those of us in The Hobby.
An "ATM" is a machine that lets you get money even when the bank is closed! A lot of people are hesitant to try these things at first but believe me, you'll come to love them! I just started using them in December of last year and now I can't imagine how I lived without them.
This is what an ATM looks like: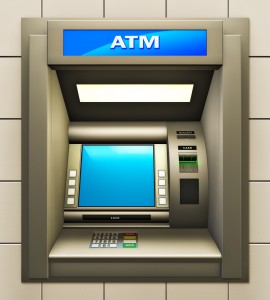 WARNING: Not all ATMs have A-T-M on them in big letters. Look at this one, for example:
So if you want to get into the ATM game, you'll have to learn to recognize certain key features so that you can use these amazing machines. Here's a picture I made with primary ATM elements identified: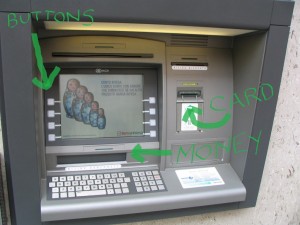 This is a picture of my girlfriend using an ATM. She lives in Canada, so my friends haven't met her yet:
What makes ATMs so awesome? You can get money from them, that's what! When you sign up for an ATM account, your bank will send you a card, called an "ATM card". If you see an ATM, you just put your ATM card in and boom! Free money!
ATMs can be used with a variety of cards….I was able to get $100 instantly at a cost of $4, a great return on investment.
There's a catch, though: before you get the free money, you first have to enter a "Personal Identification Number", or "PIN" as it's known to those of us in The Hobby. The bank will let you pick a PIN, so make you don't forget that PIN or else you won't be able to get your money! I like to write my PIN on the back of my "ATM card" so that I won't forget it.
You also want to pick a PIN that other people can't guess in case you lose your ATM card, so don't pick something easy like 1-2-3-4. I picked 2-4-6-8… you're welcome to use that for your PIN! I always like to give back to my readers.
That's all for today… if you want to know more, I've got a 14-part series on ATMs over on my blog, Thousand Mile Secrets! Thanks for reading!