We've got a trip this weekend to attend a certain very important ACC basketball game, so in the absence of financial links and commentary, we thought that for a change we'd report on you. Courtesy of Quantcast, here's a snapshot of our demographics: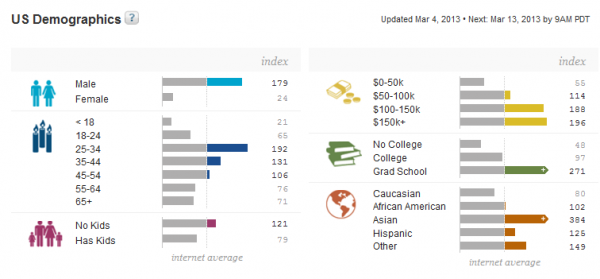 So the person most likely to enjoy this site is a childless Asian male, 25-34, with a graduate degree and a lot of income. Since people sometimes get tripped up by statistics, we'll note that this is not necessarily what the typical reader looks like, it's just the demographics this site does best with.
According to quantcast, these are the types of sites patrons of PFD are most likely to enjoy: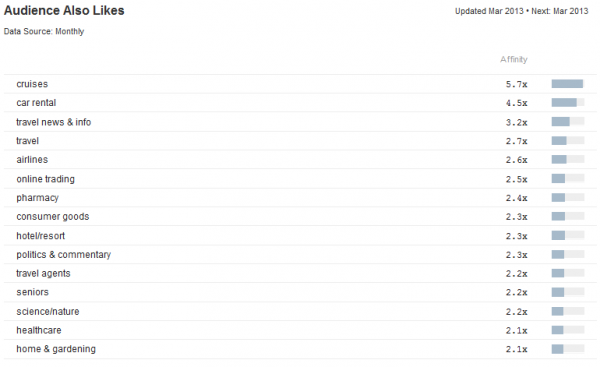 It's interesting to see such a heavy travel skew. Given that we currently have several young children, we're not doing the jet-setting you often see in, say, the Flyertalk Trip Reports board. We've never been on a cruise and we haven't rented a car in several years, and our trips tend to be weekend getaways within a few hours' drive. Our interest in credit card deals and the like is more of a means to a financial end than a lifestyle end, though of course both elements are at play. We've helped friends get free/cheap travel in real life, so it's fun to be able to do that on the interwebs as well.
Finally, we'd like to send a word of thanks to Frequent Miler, Frugal Travel Guy, and Free Money Finance, whose recent links to our very young blog have helped provide enough traffic to get a good read on our demographics. We're flattered that some of you who found this site via their links have seen fit to return after the first visit and we hope you'll keep coming back!