CRAPITAL ONE FOLLOW-UP: Sorry for the juvenile humor, but since Capital One's legal team has asked us to refrain from using its name or anything else associated with their operation, I have no choice but to refer to them as Crapital One from now on. I contacted Crapital One PR staffers Sukhi Sahni, Tatiana Stead, and Pam Girardo to ask why their company is using its apparently limitless legal budget to crack down on bloggers, but they are withholding comment thus far.
Meanwhile, Saverocity readership is at an all-time high thanks in part to the CrapOne PR disaster, and my esteemed colleague Matt has apparently satisfied the COF goon squad… for now. And thanks to FreequentFlyer for the support! He's got an interesting post on Evolve and 529s, by the way.
EXTRA INCOME FROM YOUR HOUSE: If you're stuck with a cavernous McMansion and you're looking to monetize it, there's a site called StoreAtMyHouse that lets you rent out extra storage space in your house.
THE LIMITATIONS OF CORPORATE IT: Gary Leff had a superb post on how airlines' IT difficulties are screwing over some of their good customers. Hopefully the airlines' upper management is reading it. A sample:
Many business travelers don't book their own tickets, they go through corporate travel agencies. Those agencies issue tickets in a variety of ways, none of which are transparent to the passenger (who really shouldn't have to care). An agency may just sell a ticket outright, taking its cut back from the airline. Or it may be buying the ticket at a discount, and effectively marking it up. In this case it can be a "BULK FARE" where the price of the ticket isn't being passed through to the airline for crediting elite qualifying spend.

BULK FARE tickets are not just 'cheapies'. They can be pricey, premium cabin tickets. You might buy a $2000 domestic first class fare through a corporate travel agency, and the nature of how that agency issues the ticket could preclude the revenue from being reported. And as a result that spending — even for paid domestic first class (what more in the world could an airline want?) — wouldn't count towards elite status.
On the positive side, some great deals are possible because of IT limitations…
CREDIT CARD MARKETING IN THE MIDDLE EAST: I don't have anything to say about this–other than that I find it amusing to think of, say, Citibank doing something equivalent here in the U.S.–but I just find it interesting to see how a bank markets a credit card to women in the Middle East. From Bank Muscat: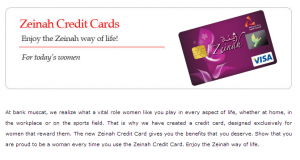 CHARLIE VICTOR SIERRA: CVS has announced it will no longer sell addictive tobacco products. It will continue to sell addictive financial products, however.
Have a great weekend!