This post will explain how to fund an IRA with a Credit Card, if you are able to follow the steps here you can gain thousands of dollars of extra money through a trifector of: Credit Card points, Tax Rebates and Interest Free Loans.  For this to work best, you need a credit card that earns points, ideally with a multiplier so you can earn 2x or more points for your purchase.  One thing the observant investor will note is that it is impossible to find a brokerage house that will accept Credit Cards for funding.  We get around this hurdle by using the Amex Bluebird Account with its Check Writing ability.
You can use pretty much any credit card for this, if you wish to use the points on the card to offset the cost of the IRA then it needs to be one with a large sign up bonus, like the Amex Gold (when a 50K or higher bonus comes around) or the Chase Sapphire Preferred or Ink card.
The Bluebird/Vanilla Reload Combination
The American Express Bluebird was designed as a replacement bank account option, it comes as a Card, and also you can get a Checkbook with it (you are going to need the checkbook for this, so please apply for one during the sign up process). Bluebird Sign Up
Vanilla Reloads are prepaid debit cards that you can find in Pharmacies, Gas Stations and Grocery stores, the come with a purchase fee of $3.95 per card, and can be loaded with up to $500 from your points earning card.  If you purchase the Reload card at a Gas Station (or certain stores that are coded as Gas Stations in the Credit Card network, such as some 7/11 stores) with an Ink Bold or Amex Gold (both offer 2x at Gas Stations) would therefore earn 1000 points for $3.95 which would later be redeemed for a $10 statement credit: net profit of $6.05 per card.  There are a lot of cards out there in the Reload market, so make sure you get the correct one, here is a pic so you know, if you are new to this idea of reload cards, don't buy a different brand of card than this one (some do work, but some don't so you would be adding unnecessary hassle: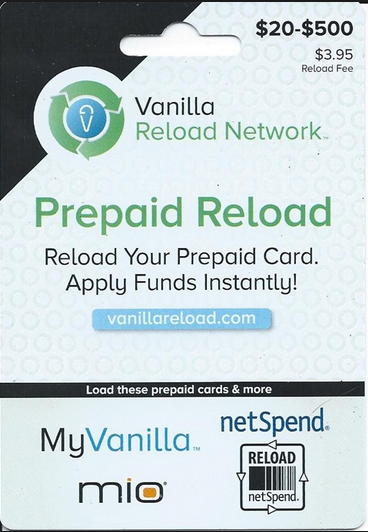 Once you buy the card you go online to https://www.vanillareload.com/ and follow the prompts to add the value of the Vanilla Reload card to your Bluebird account.
Bluebird Card from American Express Checks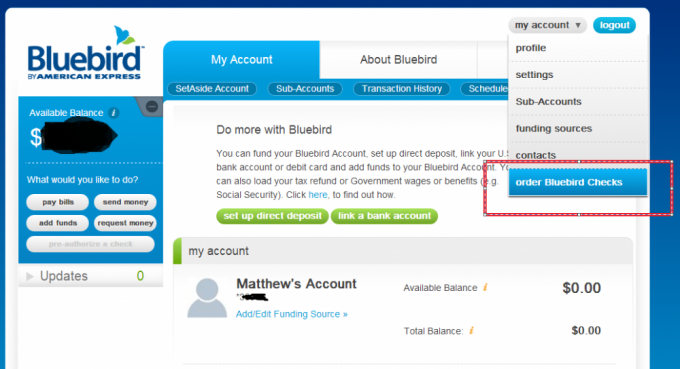 You can get a checkbook linked to your Bluebird account, you are able to order 1 free checkbook of up to 100 Checks for FREE until 01/01/2014. Order them by clicking the my account tab and select, order checkbook:
Pre-Authorizing Bluebird Checks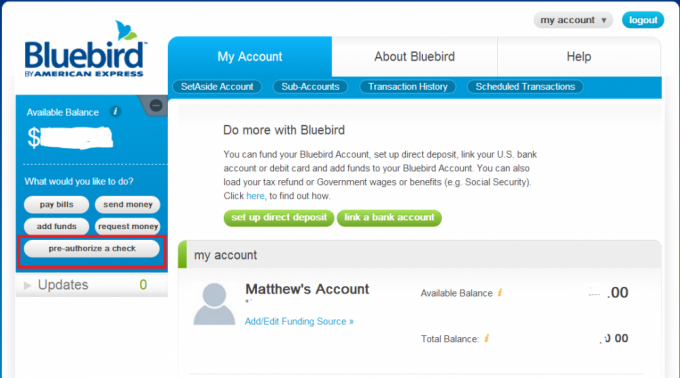 Bluebird asks that you pre-authorize checks prior to mailing them out to do this just click on the link on the left of the Bluebird screen and follow the prompts, pre-authorize your check for the amount you wish to send to your Brokerage, and enter the code they provide to you on the face of the check, mail it to your Brokerage, and you are good to go.  This is how to fund an IRA with a credit card .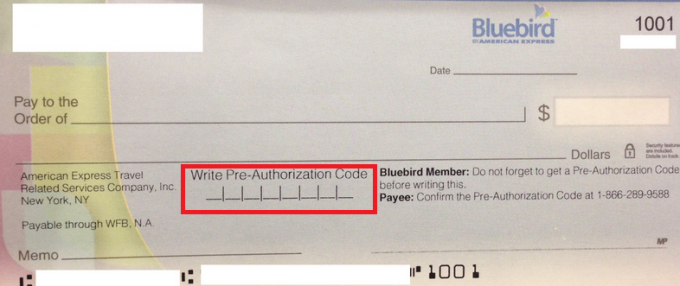 Your IRA Choice
The Traditional IRA will allow you to defer taxes until your seek to withdraw in retirement, contributions to it will reduce your current tax bill and put more money in your pocket.
The ROTH IRA will not allow you to reduce your current tax bill, but you also will not have to pay any taxes when you withdraw in retirement.
The NON-IRA option would be a regular brokerage account, this works too.  The only problem with one is that you don't get any tax savings, but the interest free loan plus points still make this option a profit maker.
Your 401(k) Impact
An IRA has nothing to do with a 401(k) and you can max out your contributions to your work plan, then also put the full amount of $5500 into your Traditional or ROTH IRA in the same year, think of it as topping up your retirement savings.
IRA Contribution Limits and Rules
You are able to contribute any amount up to $5500 ($6500 if you are over 50 years old) for 2013.
In order to contribute you must have earned a gross salary of at least that amount in that year – so if you didn't earn a salary this year, you wouldn't be eligible for an IRA (deductible) contribution.  I have been advised that Stay at home Moms can still be eligible for an IRA providing their husband was employed and they file jointly, though I would double check that situation with a tax professional as I have never tried it.
The Profit
You decide how much you want to put into your IRA based upon your own needs, here is one example, ideal for someone who has already a nice amount of money in their 401(k) and just wants to add another $1,000 for almost free.
Example: $1,000 Contribution to your IRA for 2013
You'll need a card that offers a signup bonus, these vary based upon the best offer at the moment however you should be able to find 40K to 50K and upwards for signup bonuses, valued at 1 cent per point minimum (you can actually get more value is you uses these points for travel) lets use the lower 40K for $400 if you spend $1,000 in the first 90 days of ownership.  Therefore, if you were to buy 2 Vanilla Reload Cards at $500 each (+$3.95) your total spend would be $1007.90.
This would earn you:
40000 Credit Card Points (signup bonus spend met) = $400 Statement Credit
2015 Credit Card Points (for the $1007.90 with 2x points ) = $20.15 Statement Credit
Furthermore, if you decide to fund a Traditional IRA you get to claim the $1,000 as a deduction.  For a person living in New York earning say $50,000 salary that would be worth:
Federal Tax Bracket 25% Value= $250
New York City Tax 3.591% Value = $35.91
New York State Tax 6.85% Value = $68.50
So by paying $1,000 into your Traditional IRA you would get $354.41 back in your pocket from saved taxes.
Summary Of $1,000 Account Profit
Starting Statement Credit with Credit Card $1007.90

Balance Reduced by $420.15 from spend
Balance Reduced by $354.41 from the extra money you have by lowering your tax bill
Total Balance on card = $233.34
Therefore, you have just adding $1,000 to your retirement account for a cost of $233.34!  Furthermore, many of these cards (check your terms and conditions) with 12 months interest free credit.  Therefore if you wanted to pay it back at the rate of say $20 per month, you get the entire amount of the $1,000 loaned to you for no fee too!
This is free money, and something that you can't afford to miss!
From the above, if you decide to put in the full $5,500 you would save even more, as your tax bill would be further reduced, the numbers would run as follows:
Purchase 11 Vanilla Reloads (note there is a $5,000 limit per transaction if you buy them in CVS, and a $5,000 per month load limit on the Bluebird card, but you can spread the purchase and load over a 32 day period and be fine).
Cost 11 x $503.95 = $5,543.45
This would earn you:
40000 Credit Card Points (signup bonus spend met) = $400 Statement Credit
11089 Credit Card  (for the $5,543.45 with 2x points at gas stations) = $110.86 Statement Credit

Federal Tax Bracket 25% Value= $1,375
New York City Tax 3.591% Value = $197.50
New York State Tax 6.85% Value = $376.75
Starting Statement Balance $5,543.45 minus Statement credits of $510.86 =$5,032.59
Deduct Tax savings from that=$5,032.59 = total Statement Balance of $3083.34
That means, you get a $5,500 IRA Contribution, potentially financed interest free for 12 months, for the cost of $3083.34
Don't forget, that you can do this per person, so in a married household you can each do the $1,000 or upwards contribution and take advantage of this twice, providing that you both have earned salary that year equal to the  amount of the contribution.  If you haven't earned salary, consider using the same plan for a non Tax Deductible brokerage account.
Please note – for you to claim the Tax Deduction portion of an IRA you need to earn within income limits, which are as follows, if you earn under $59,ooo per year as a single filer, or under $95,000 as a joint filer (joint income) you can load the IRA  in full up to $5,500 per person, any more and it starts to phase out in a pro-rated manner, and over $69,000 for single filer, or $115,000 for join filers you can't claim the deduction if you are over that level, at this point you might want to look into a ROTH IRA as they have higher limits (but don't reduce present taxes: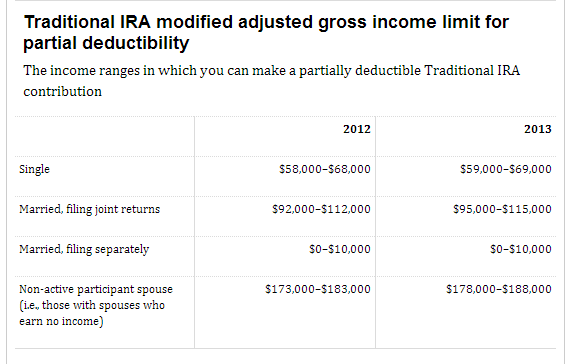 ROTH IRA Limits and Phase Outs full amount of ROTH up to $112,000 for single filer salaries and or $178,000 for joint filer salaries, after which they phase out as per below.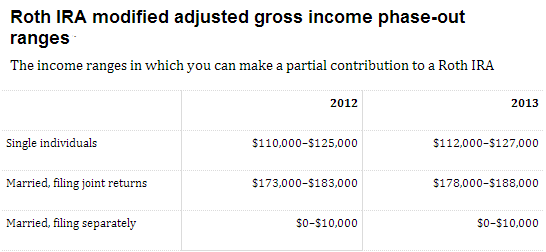 If you liked this post on how to fund an IRA with a Credit Card please share it on Twitter or Facebook!
The value in this concept could be useful for people trying to meet minimum spend levels on cards, for example, whilst the PRG Amex often offers a large signup bonus sometimes that comes with an increased minimum spend.  Should you come across a 75K point offer based upon $5K spend in 90 days this is a very easy and convenient way to meet that spend threshold and also ensure a different route for funding your IRA than just the simple ACH or mailing in a regular check.
This post has been edited from the original where I recommended the Barclay Arrival card, this is an excellent card and works very well with this plan, but I just realized that unlike Amex and Chase they do not provide a 1:1 statement credit.  However, should you use the Barclaycard for this and then redeem for Travel you would be gaining a 2.22% statement credit on travel booked in the future.