A belated Happy New Year to everyone.  Not long ago we took a family staycation in the Old Port area of Portland, just a short drive from where we live, to check out the new property and ride the Polar Express.  We were left with a favorable impression of the hotel so I thought I'd share some thoughts and pictures of the stay here.  I suppose one resolution I've made is to post more pictures!  The Hyatt Place Portland Old Port is reasonably priced in a great location for walking, shopping, eating and sightseeing.
Arrival at the Hyatt Place Portland Old Port
The hotel is located on Fore Street, one block up from the waterfront, right on the corner of Fore and Union Streets.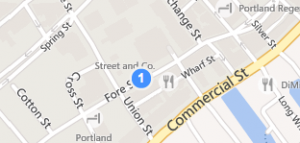 What most maps won't tell you is that if you are parking at the hotel, you will want to arrive on the Fore Street side, but approaching from the east.  The hotel has a small valet loop that enters on Fore and exits on Union, but the approach has a "no left turn" sign when approaching from the west on Fore Street.
Valet parking is somewhat steep at $18 per day and the parking itself is uncovered.  It snowed during our stay and valet was understandably backed up a bit because they had to clear off your glass before they could return your car.  Covered self parking is available at a garage just before the hotel on Fore Street, although I am unsure of the current rate – I'll call and update.
First Impressions
I'm told this building represents the brand standard for Hyatt Place, and if that's the case, I am impressed.  This property was built from scratch and is not a renovated Amerisuites.  My previous Hyatt Place stays were all renovations of the acquired chain.
I had to borrow this picture from the hotel's website, since my own pictures only started in the room, so I suppose I've broken my resolution already.  Check in was quick.  As Hyatt Diamond members, we were offered 500 Gold Passport points or a free snack or non-alcoholic beverage item from the Gallery Market.  I was told that normally we'd be offered a drink at the bar as well, but they cannot give away alcohol due to Maine laws.  No worries, I took the points!  We finished checking in and were given room 702, a king bedroom suite with wrap-around balcony facing Fore Street and the Casco Bay.  I've stayed in Park Hyatts with less impressive views.  Sorry for the glare.
Rooms and Noise
It has been noted by others, and I will confirm, that the Fore Street side of the Hyatt Place Portland can be a little bit loud late into the night, due to the bars along that street.  I didn't find it loud enough to keep me up, but families who are used to the quiet or with really little kids might want to request a room on the back side of the hotel.  On the suite level, at least, even-numbered rooms such as ours overlook Fore Street;  odd numbers are on the back of the hotel and also feature balconies.
The King Balcony Suite
As for the rest of the room, it's a nice size suite with a separate living room and bedroom.
You enter into a small foyer with a table and closet to your right, then proceed into the living room.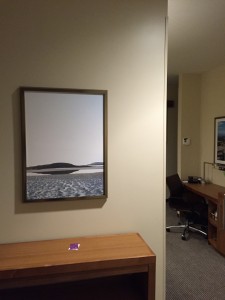 The living room has an L-shaped couch that can sleep two, a desk with wired internet, plenty of power outlets and lighting, as well as a TV, fridge and drawers.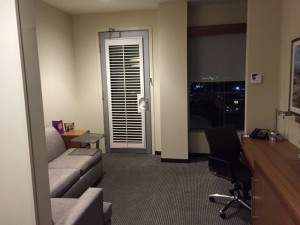 If you keep going straight, that is the exit to the balcony. You can't see much of the water at night, especially when it's snowing, but the views facing west on Fore Street are still great.  This suite's balcony wraps around the corner above the entrance to the building on Fore and Union.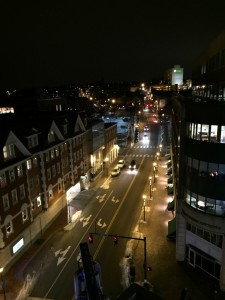 Turn right and you'll find the bathroom, a fairly modern design similar to other newer Hyatt builds and renovations, with a separate shower and toilet.
Past the bathroom is the bedroom, with a king bed, night stands with top side power outlets, closet space and drawers.
Breakfast
Hyatt Place hotels include breakfast for all guests, not just Diamond members.  I should have taken some pictures, but it was quite busy on the two mornings we were downstairs.  The spread has the standard cold options – breads, cereal, juice, milk, plus a few hot options.  During our stay, we saw french toast, sausage, bacon and something called a scrambler, which was just scrambled eggs baked in a mold with some bell pepper, bacon and onion, served a little harder than an omelette, and oatmeal.    We all thought it was pretty good.  The food was coming out fresh due to turnover and the variety was probably a little better than most Regency Club lounges I've seen, at least on the hot side.
One area the hotel can improve is to figure out how they want table turnover to work at breakfast.  There is a station with buss bins where it appears (to me) that guests should bring dirty plates and glasses after they've eaten and cleared their table, but there's no signage indicating that and indeed many guests just got up and walked away.  The hotel does have plenty of staff who are there to wipe down tables and clear away a table where the guest didn't.  My assumption is that we're to clear our own mess, but I think we could use a sign in the area to indicate what should be happening.
Some Area Activities and Kid-Friendly Dining
This is by no means an exhaustive list, and you will certainly find your own fun walking in the general area.  The neighborhood is safe, night or day, even if the bars get a little loud.  Portland's culture is a bit more casual than other cities, which is great for children as most restaurants will welcome them.  I'd say that outside of Fore Street, there probably isn't a restaurant in Portland that I wouldn't take our two and a half year old.
The Children's Museum and Theater of Maine is a reasonable walk in good weather, but I'd recommend driving in the cold.  The Portland Museum of Art is next door to the Children's Museum.
Fore Street itself has plenty of shopping and dining.  The streets parallel, Middle and Commercial, also have plenty to see, do and eat.  Commercial Street runs along the waterfront and is a recommended walk.  You will generally want to head east on any of those streets, as the Hyatt Place is located toward the west end of shopping, dining and attractions.
Paciarino is a restaurant I've written about before and located about a block from the hotel.  Reservations are highly recommended, especially on weekends.  Children are welcome.  This one restaurant that my daughter asks for specifically.
Final Thoughts
I have to specifically mention the housekeeping staff as being genuinely professional, kind and caring.  We were headed out to catch the Polar Express when housekeeping came by for daily cleaning, so we stopped and chatted a bit.  When we got back to our room, my daughter's favorite toy – a stuffed cat named Kitty – had left her a note wishing her a fun day.
Overall, this is a great new property that adds to the hotel scene in Portland.  As the first Hyatt in Maine, it represents my favorite hotel chain very well.  We stayed on a cash and points rate at $55 per night and 4000 points, as this hotel was a Category 2 property at the time.  Hyatt has since bumped it to a Category 3, which takes effect on January 22, 2015.  Diamond benefits at Hyatt Place don't allow for DSU use, maybe because most Hyatt Place hotels don't have suites, but I do appreciate the hotel's recognition and upgrading us to a really fantastic room.  We'll definitely be back for another staycation.