Regardless of whether you've heard of Alaska Airlines or can practically fly them, I find it imperative to have an account with them these days.  I'm an east coaster, born and raised, so before I began traveling and really understanding what I was doing, Alaska was just that odd airline that sometimes showed up at Philly or DC for no apparent reason.  Today, I find it the most compelling domestic frequent flyer program for a number of reasons.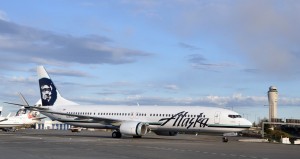 First and foremost, Alaska is a non-alliance carrier with a number of partners whose mileage can be credited back to Alaska for elite qualification:
Delta
American
Air France/KLM
Aeromexico
British Airways
Cathay Pacific
Emirates
Fiji
Korean
LAN
Qantas
There are two important items from that list.  The first is that you have the flexibility to fly Alaska, American or Delta and still consolidate the miles for both elite status and redemption!  In a smaller or non-hub city, that's huge as odds are you can shop the cheaper fares and still put those miles into one account.  For someone like me, based out of PWM and with easy access to BOS, that means I can go visit family out west with direct service to San diego, Los Angeles, Seattle or Portland, and if it's been an up year, with some elite benefits depending on the airline flown.
The partnership with Delta is not as strong as it used to be, but mileage credits are still a benefit, as well as priority boarding and some others.  I will note that Delta puts Alaska elites on the upgrade standby list, albeit behind all Delta elites, so as a practical matter it's difficult to clear – but it does happen.  The American partnership, on the other hand, offers some enhanced benefits like free Main Cabin Extra seating for MVP Gold and above, plus 50% off for MVP, free checked baggage allowance and priority check-in/boarding.

Beyond the partner benefits, the Alaska elite program is quite good as well.  Bottom tier MVP qualifying is at 20k miles on Alaska metal or 25k Alaska+partner.  At that level, you receive complimentary upgrades, 2 free bags, 50% bonus redeemable miles and the usual priority check-in/security access.  MVP Gold and 75k members bump up to a higher upgrade priority, 100% bonus redeemable miles, and to me the best elite benefit anywhere – fee waivers, including change fees!  Best of all, MVP Gold qualifying is at 40k Alaska miles (or the usual 50k if partners are included).
Alaska will provide a one time status match to a comparable tier in another major program – email elite.flyer@alaskaair.com with a copy of your current elite card and a current statement from that program.
For all Alaska passengers, change fees are lower than the legacy carriers (except Southwest), at $125.  However, an added benefit is that 60 days or more prior to departure, change fees are waived entirely.  This is great when booking early, as long as you can confirm your plans two months out.
Subjectively, Alaska customer service has been great, and upgrade availability on BOS-SAN has been ridiculously good for us at the MVP level.  Upgrades are competitive within the west coast network, but from the few east coast routes, you can currently do pretty well.  Going forward, this is my program of choice as I'll be able to credit Delta and American (once the US merger is complete) miles to one program and take advantage of often excellent Delta fares from PWM, as well as direct west coast flights from BOS on American, Delta and Alaska
The remaining question is whether I will run for status in late 2014.